This post was created in partnership with America's Farmers. All opinions are my own.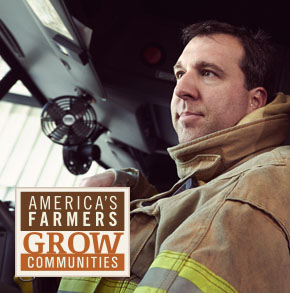 During our many, many, many cross country trips Bob and I have always enjoyed driving through the farming states the most! Seeing barns old and new, pastures stretching out with tractors roaming around, and houses tucked amongst the land with families busy at work; all create a picture perfect, peaceful, and beautiful scene to see zooming past your window.
Being married to an avid fan of post-apocalyptic movies I have seen (in Hollywood version at least) what would happen to our country if the food we tend to so mindlessly enjoy each day just happened to stop being grown and brought to our local grocery stores. And I have to admit, I do enjoy all my groceries that contain corn, wheat, and all the other scrumptious crops grown right here in the USA! Not only do they help get food on our table, American farmers are an important part of our nation's economy.
I'm always fascinated by getting a peek into different people's lifestyles and careers. So when I found out that
America's Farmers  were highlighting 11 modern day farming families I took my time clicking through each and reading about the variety of different people working behind the scenes to provide such a vital part of my families life!
The story of the Pistorious Family really intrigued me. I thought it was super interesting that technology is such a huge part of their jobs, but they also focus in on the niche crop of organic popcorn. It's also great to see a family of six working and growing together and creating their own version of the classic American Dream!
Since moving to Texas we live close to many ranchers–in fact our "neighbors" on one side of our house is a herd of cattle that moseys over to the far end of the rancher's hundreds of acres to say hello every now and then. It love being close to the flip side of the backbone of America, and will continue loving to look at those pastures and thinking about the families who live and work on them on our cross country trips!