This shop about a Wireless Bluetooth Portable Speakerphone with rechargeable battery life has been compensated by Collective Bias, Inc. and its advertiser. All opinions are mine alone. #GiftingAudio #CollectiveBias
I've mentioned before how difficult the guys in my life are to shop for! They're the kind who when they want something, they go out and buy it! So when the time of year rolls around I have the women bought for months in advance and I'm still scratching my heads as to what I should get the guys!
Hubby is the worst for this, especially! He's extremely particular about what he likes and doesn't like and usually owns everything as soon as he wants it. I'm always keeping my eye out, however, for one or two bigger, special gifts to get him each year for Christmas.  This year I was super excited to find the JBL Holiday Gift Guide which includes all sorts of great, techy gear like hubby loves. When I found the JBL Flip 2 Speakers I knew I'd found the perfect gift for him!
As December draws near I do the opposite of many people and bunker down and avoid shopping centers like the plague! I love to get my shopping done way in advance so I can take the time in December to really enjoy Christmas–but as I mentioned I usually have those last few gifts to buy. I love that I can shop online while drinking coffee and having the kids play in the other room, and that's definitely how I do all of my last minute purchases! I'm always careful to still look for deals, though, so when I saw that I could get free shipping and returns from JBL.com I knew it fit all my criteria!
Buying gifts is always quite a process for me, because I want to make sure they line up perfectly with the person's preferences, lifestyle, and tastes. I love being known as an "awesome gift giver" and really want to make sure to wow my hubby! The big reason I was so excited about this find is that music is a huge part of our every day life! From jamming in the car to playing it while he's studying and I'm working, we always have music playing in the background. The time when music is a central point to our time together, though, is when we cook together! I usually prepare dinner but once every week or so hubby will come into the kitchen, hook up some speakers, and we'll jam as we make Bob's Hot Bottom Chili or grill seafood together.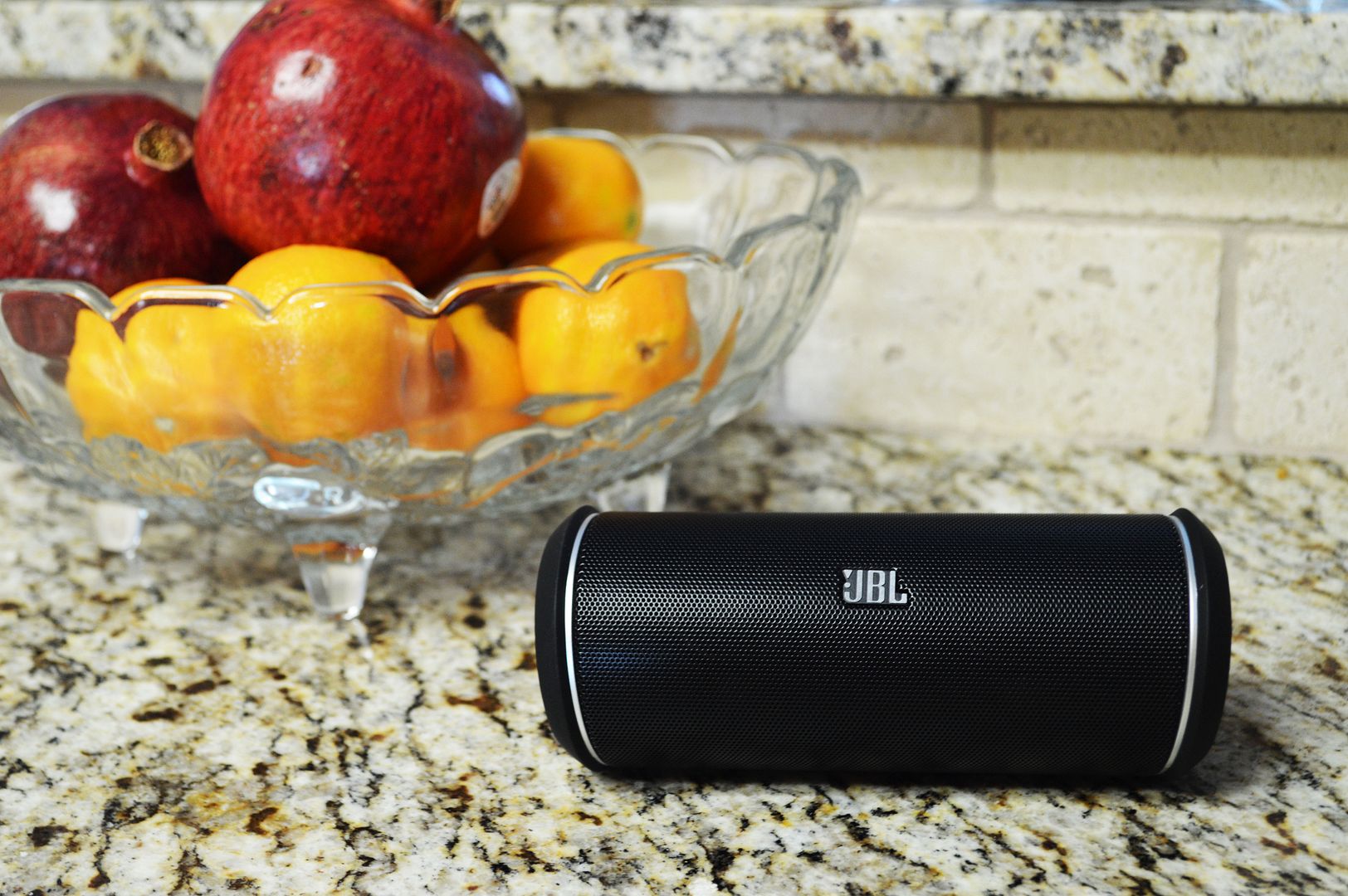 We used to use cheap little speakers that didn't have great quality and also had lots of wires to fuss with. This especially caused problems trying to find a spot for them in the kitchen where they could be plugged in, and also not get ruined or ruin the computer or other techy device they were playing from. Plus when we grilled or went swimming it meant we had to leave our music behind and rely on an age old boombox and the local (i.e. a hokey commercial every 2 minutes) radio stations–not exactly conducive to couple bonding!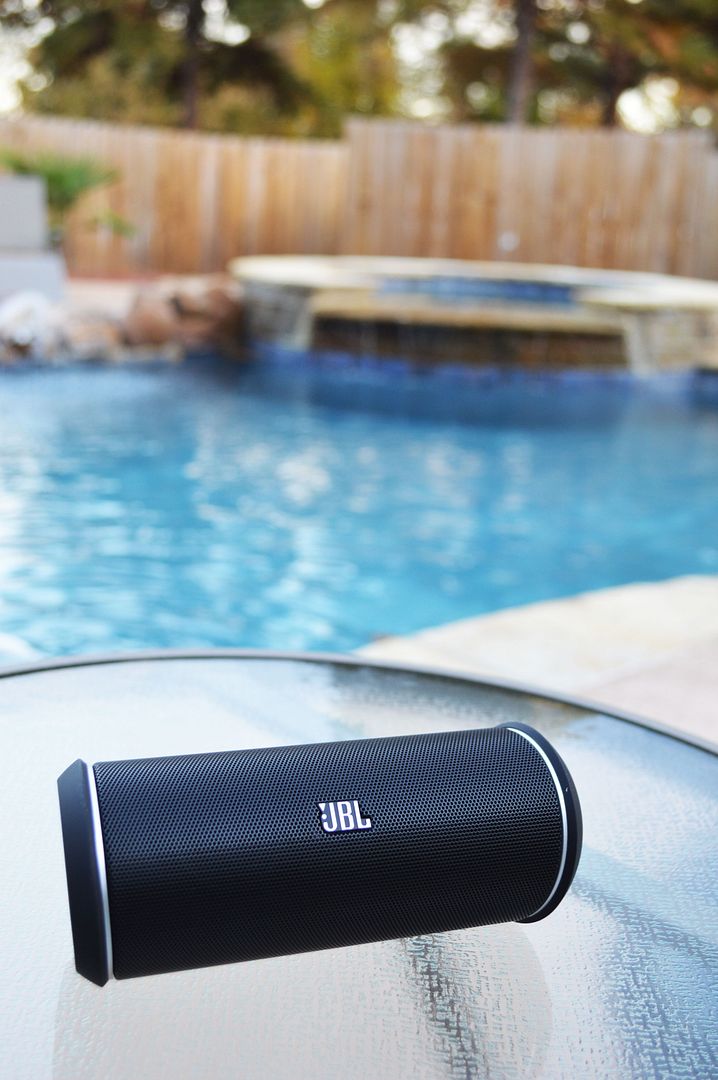 As you can see the JBL Flip 2 Speakers solve all these problems effortlessly! It's a Wireless Bluetooth Portable Speakerphone that fits nicely just about anywhere you could imagine bringing it and can stand vertically or lie horizontally so it fits well into all kinds of nooks and crannies (and well away from danger zones in the kitchen)!
Originally I was going to wait until Christmas to gift this to hubby, but as I mentioned I like to fit the gifts to the receiver, and his favorite thing in the world is to get all his presents early. With a huge extended family Christmas party coming up I knew that we could use the speaker for it–so I made everyone happy by gifting it a little early!
I can't wait to hear some Mercy Me Christmas tunes coming out of it and hubby is already loving it for listening to music all over and also for watching shows and since it even has a built in speakerphone he could bring it with him to school and be the life of the study party while still being available to chat at me!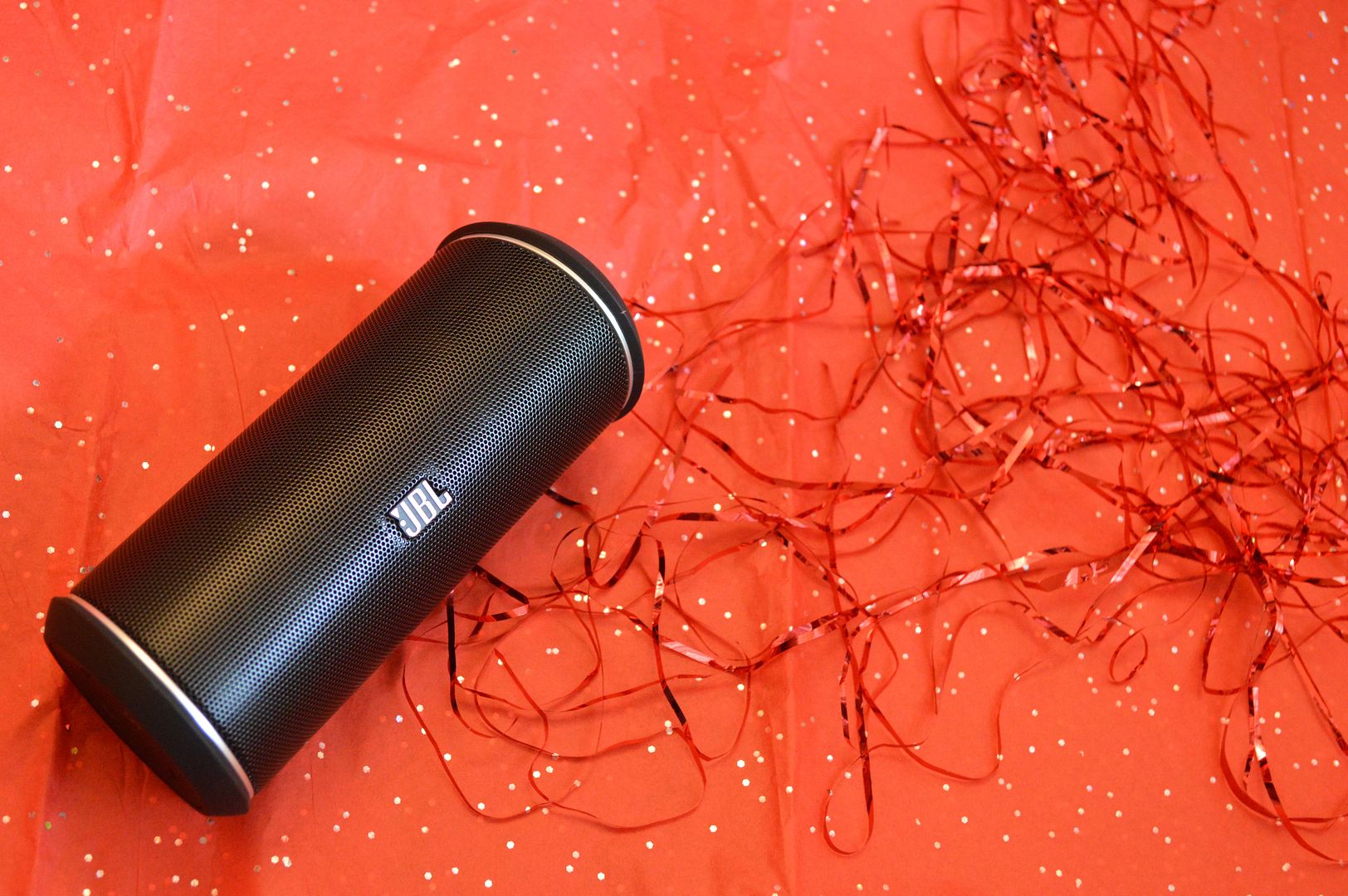 This is an awesome, awesome gift for any hard to buy for guy in your life! Want to know the best part? 30 lucky readers are going to win either Flip2 Wireless Speakers or Charge2 Wireless Speakers! Happy Entering!
JBL.com #GiftingAudio Sweepstakes