I am a member of the Collective Bias® Social Fabric® Community. This shop has been compensated as part of a social shopper amplification for #CollectiveBias and its advertiser, Airspeed Vacuuming Clean #EurekaPower !
As a work from home mom with four jobs, three dogs, two kids, a hubby in college full time–life is *messy*!!! And we're so pressed for time that staying up on that messy can get really challenging at times.You might think that I just collected a collage of messy photos from my archives (because, hey–I'm the kind of person who does take these kinds of pictures) but nope! Just in the past 2 weeks all three of the disasters shown below have happened and/or been discovered courtesy of one little boy who very much loves dirt and one very shedding Husky!
Although it's still a work in process–here are the top 3 tips I've found that help save my sanity and help us keep our house a happy level of clean and from becoming a total disaster!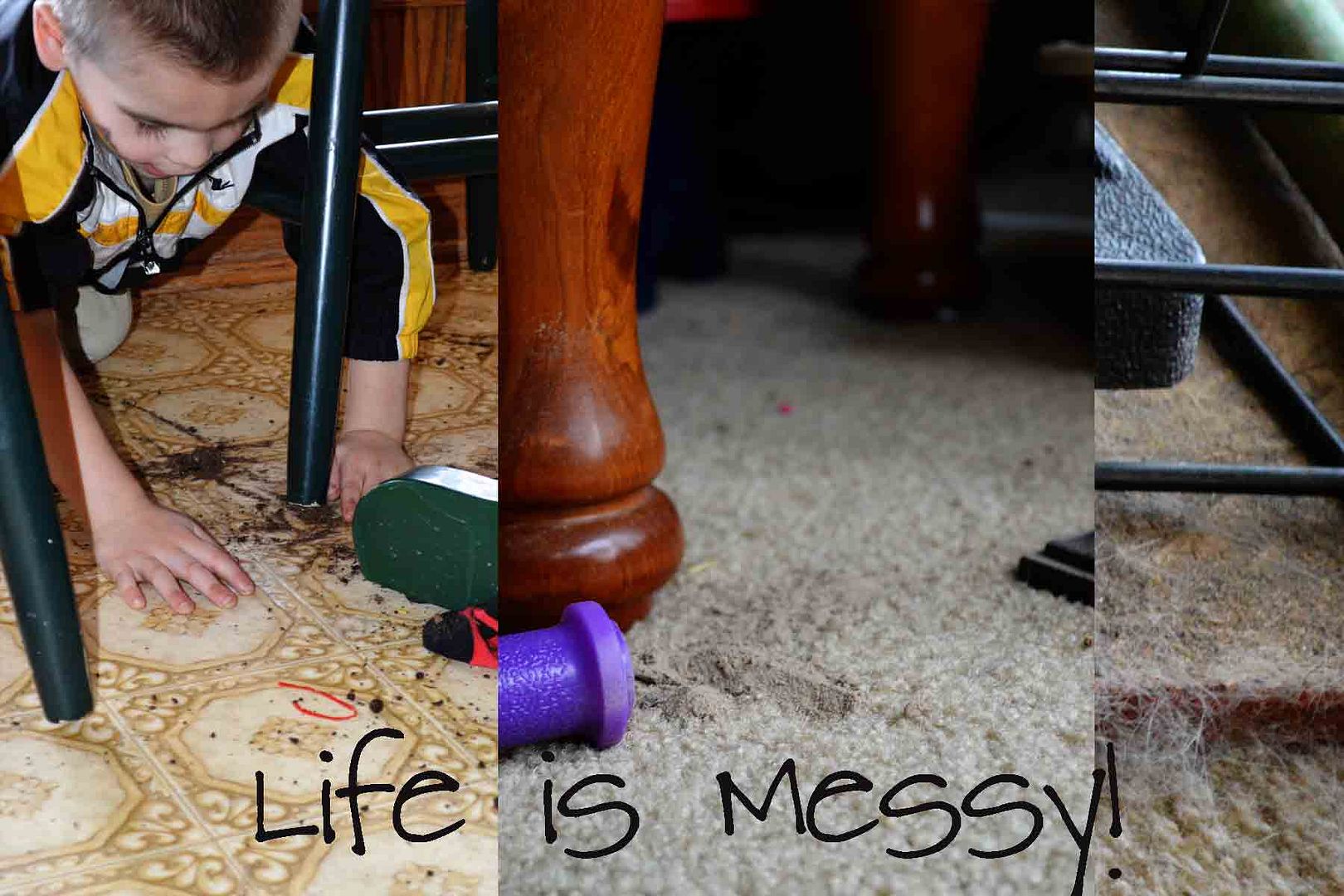 Simplify!
My first and most powerful suggestion is to simplify! Now–this is a super broad term and it can mean a ton of things when applied to cleaning as well as life in general. From de-cluttering your items so that you have less clutter and mess to clean up, to de-cluttering your schedule so you have more time to take care of things, there are so many different ways to simplify when it comes to cleaning! While simplifying is absolutely a powerful force, it more often can be an overwhelming thought as you struggle to find how to fit it into your schedule and where to start!
One very easy way to work this big, powerful concept into your day to day life is to use this tactic when it comes to how you clean up life's daily messes. I've found that it's much easier for me if I have just one tool that can do many different jobs. Its saves me space and time which as a result end up in more simplification in my life! For cleaners I love using an all purpose cleaner that does a great job and a multi-fiber cloth that can be used over and over and on surfaces like glass and hard counters.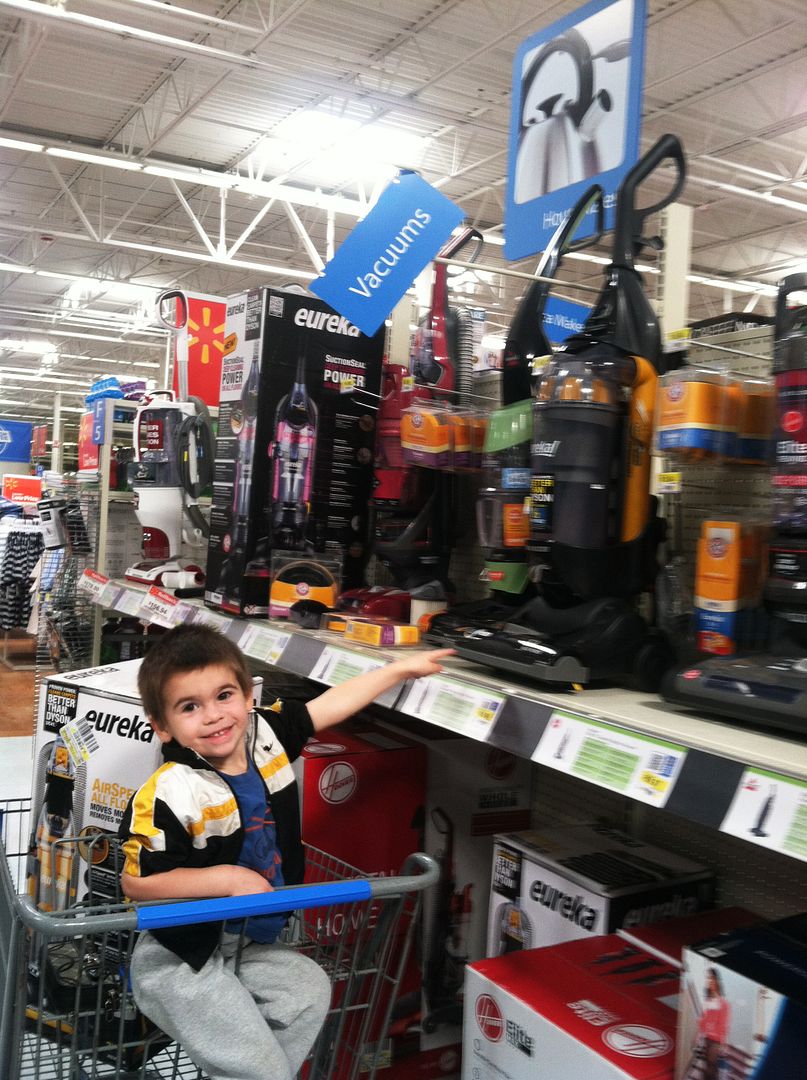 When it comes to floors we have tile, linoleum, and (very light) carpet in our house. There are also ceiling fans in every room, a hearth, and basically just a ton of places for dirt and hair to pile up. I knew we needed something to really deep clean that could tackle multiple jobs at one time. I wasn't very happy with our current vacuum that was big & bulky and had features like a cord storage system that were wonderful…until they quit working, which was very quickly.
So I decided the Eureka Airspeed All Floors would be perfect for vacuuming all the surfaces in our house and was excited to give it a try! I was happy with the price for a multi-surface vacuum and of course we bought it at Walmart during one weekly shopping trip there-I love being able to pick up my groceries and new things for the house all in one spot.
One of the things that struck me when I was using it was how much lighter and easier to use it is than our previous vacuum, and putting them side to side I saw that it was half the of size, so that was probably why! I love the long cord allowed me to vacuum the front room and then go onto the tile leading up to the front door–with just a quick press of a button and flick of a dial I was cleaning two totally different surfaces, and very efficiently! There was even an independent test that showed that it sucks up more dirt than Dyson which is not surprising since it does have the best performance for similar vacuums. It certainly helped my weekly clean up go by even more quickly which brings me to my next tip…
Schedule
So if you're a frequent reader this tip won't come as any surprise because I am ALL about scheduling things daily to make life run smoothly! With as much as I juggle it really is a necessity, but everyone can benefit from setting up a weekly time to clean!
You will probably find that with your lifestyle it either works better to do your cleaning bit by bit each day–Fly Lady style and how I've talked about doing it in my previous Spring Cleaning posts. You might, however, just prefer to set aside a chunk out of one day and do it all at once each week.
While we were in Boston I found that doing a little bit each day for both every day tasks and messes and also working deep cleaning into my weekly schedule worked out well. Now that Amber is in school and I have so many jobs and Tyler is no longer napping, I struggle fitting that time into my days, and instead have decided that it works better if we all just pitch in as a family and get things taken care of first thing on Saturday mornings!
No matter what you decide after looking at your schedule be sure to pick a time. Just having in your mind that you clean the floors every ___day in the afternoon will make it so much more likely to happen. Give yourself some wiggle room and grace though–because we all know, life happens! Which brings me to my last tip…
Set Yourself Up for Success
In addition to Simplifying Your Tools, and Scheduling a Time, make sure you are also setting yourself up for success by making things as easy as possible! Store your cleaning tools and products close to the areas you'll be using them, and keep them organized–that way you won't end up with no bottles of toilet cleaner and 4 bottles of window spray! By pairing prevention with preparation you can help tackle any mess that comes your way!
If you're finding toys filled with sand sneaking into the house make sure the kids have to make a pit stop in the garage for unloading and putting away all outside play things, when you find yourself cleaning up potting soil from the carpet for the fifth time then maybe it's time to move the plants out of reach of little fingers, and if you're finding that your dogs are shedding in preparation for summer remember to work using the extension tools on your vacuum to hit up their lounging and sleeping areas during your weekly clean up!
I'll admit that I'm normally horrible at using the vacuum extensions. When they are integrated into the vacuum itself it seems like every time I try to switch back and forth I end up making more of a mess than ever before, so as a result those narrow, hard to reach places way up high and down low end up getting a little nasty!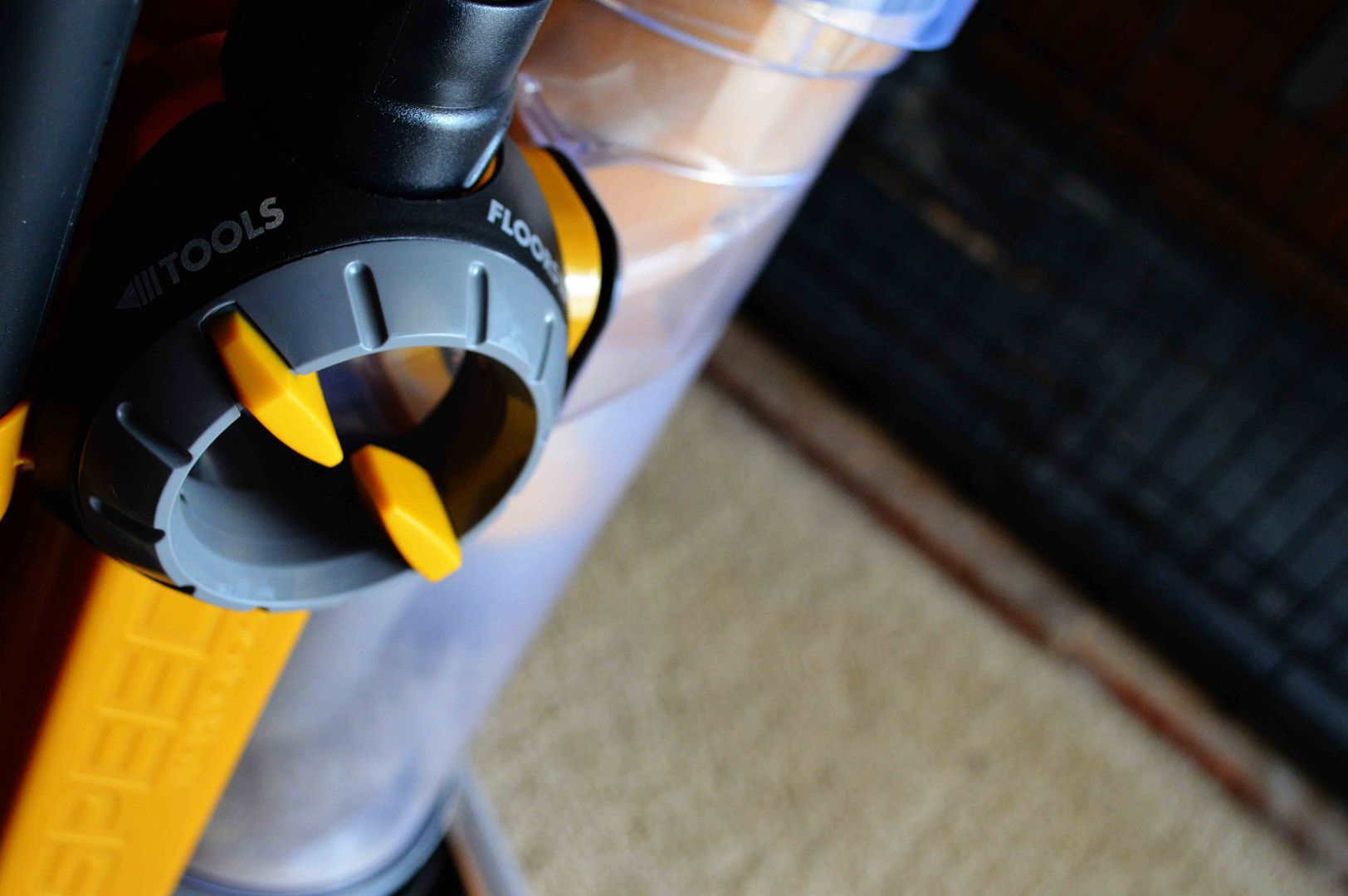 One of the things I loved the most about my new Eureka is how easy-peasy the extension is to use, and just how powerfully it works! You just flip the side knob from "floors" to "tools", slip on the best tool for the job, and go at it! The normal tool did an amazing job at sucking up the dirt and dog hair all around our Husky's cage, and it also cleared our hearth of ashes that had scattered around during our last chilly night fire. Hubby (yes my guy helped us Spring Clean the house last weekend–love him!) used the brush extension to clean the popcorn ceilings–it clears off the dust and webs without making the ceiling fall apart, and he also used it  to suck off all the "yuck" from the ceiling fans.
So there you go–my top 3 tips to handle and clean every mess life throws at you! Think of anything I missed or have an amazing clean tip to share? Please leave me a comment!