Welcome to another chapter in the Organizing in Small Spaces Series! Today I tackle a fun and much needed topic–the Master Bedroom! When we lived in our apartments and condo we were very fortunate that although our living space in general was small, the master bedroom and closets were quite generous! Now that we're sharing a house with the in-laws, however, their master bedroom is the generous room and ours is, well, about the size of a normal child's bedroom. I'm very thankful for it, however, after having much larger rooms in the past it felt tiny when we tried to move everything into it! Over the past year and 1/2 we've made it our own and found some tips and tricks for maximizing the space and so today I wanted to share them with you!
How to Make the Most out of a Tiny Master Bedroom
Bring a lot of "you" into the room with art and color! If you're renting or living with others, it's likely you don't get a whole lot of say in what the wall color is going to be. I shared a little bit of how to get around this drawback in Making a Rental Feel Like Home and you will probably recognize the two personalized canvases in the picture above from that post too! Since the space that was ours got majorly downgraded we chose our two favorite pictures that are usually in our living areas and moved them into our master bedroom–I like them so much in there that they might not ever go back even when we move!
The best ways to bring color into a room when you can't paint it are through the "soft" materials in the room (rugs, pillows, bedding, curtains) and the furniture. We've gravitated to a mix of blues paired with the darker shades of wood and splashes of white which are very soothing and makes both of us very happy! Our beautiful new rug from Bold Rugs is the perfect mix of the shades we have throughout the room and also plays on the nautical pieces we have scattered throughout the room as a nod to Bob's Coast Guard past.
Think outside the box when it comes to the section you're shopping in.
When you're in a smaller room sometimes it helps if you don't gravitate towards the normal sections that you would if you were in a larger room. With a little outside-the-box thinking you'll end up with fun pieces that work great for your space. For example this rug is actually from the kids section of Bold Rugs! This meant that it was actually less expensive than a "regular" rug was, and it fit the space better since they tended towards the smaller size. The quality is amazing (it's just as plush as it looks in the picture) and it just looks like a fun, modern rug when placed in our bedroom!
This also applies to furniture, when we first moved into the room we were using the big, heavy, boxy wooden dresser that his parents had in there. This worked great when they were using the room as a guest bedroom, but for our master we wanted to move both our tv and Bob's desk into the room–which would be impossible with a huge dresser taking up half the room. Bob ended up coming up with the idea to buy plastic, stack-able drawers and use them instead of a traditional dresser.
The result, while it may not earn us a space in Better Homes and Gardens, has been amazing! We have SO much more storage space now and it takes up less than half the space as we were able to put my drawers on one side of the room in a small area and Bob's tucked into the other corner. I like the colored semi-translucent plastic as it add an additional modern-eclectic feel to the room. It's not something I'd probably stick with forever, but when you're pressed for space in a room like ours, a very small children's room, or a dorm room these are inexpensive and amazing options to consider!
Squeeze storage out of every spot possible!
This ties in with our "dressers" above as we try to store as much vertically as we possible can–since we have much more room that way that we do horizontally.
We also have added several shelves into the room as you can see in the first picture. In a space like ours a bookcase would be difficult if not impossible to fit in, but with several long shelves along each wall and even over our headboard we accomplish fitting in a bunch of extra storage for everything from hubbies school supplies, to candles, to many of our favorite books! I love how the shelves add interest and depth to the room along with being practical. Hubby and I made them buy purchasing some untreated boards from a local hardware store and staining them cherry, then purchasing the inexpensive holders at the same store.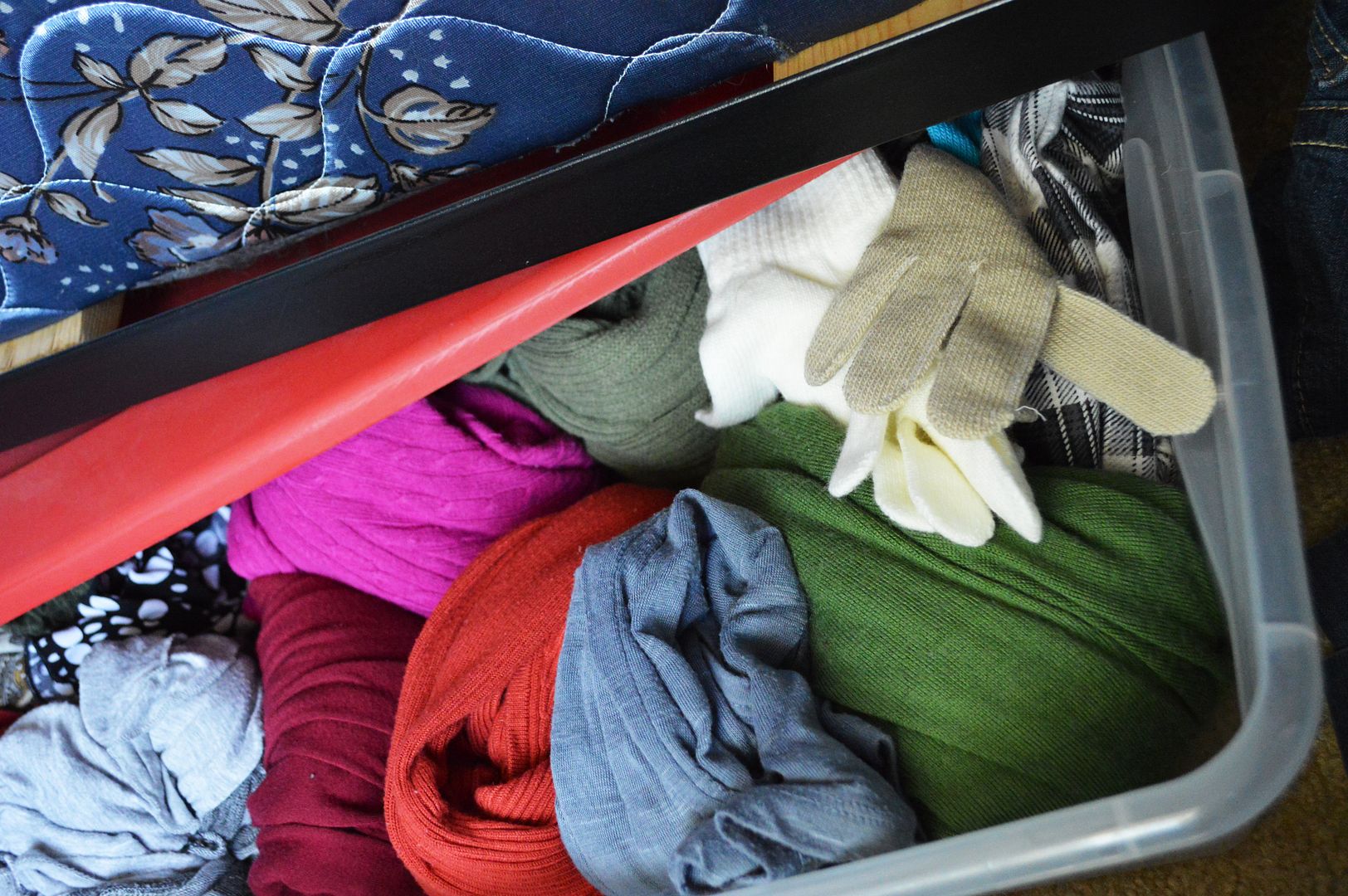 Storing things under the bed is no new trick–but for a small master bedroom they're an absolute must! With things like books and other essentials tucked up on shelves we save under the bed to store out of season items. A few under bed bins and all my long sleeves are now tucked safely away but close enough that I don't have to go digging into storage when it's time to swap them again! Want to know how to keep the rest of your clothing organized? Check out my post on How to Organize and De-clutter Your Closet in One Minute a Day.
There are my tips! Do you have any that I forgot or any organizing questions for me? Let me know in the comments!