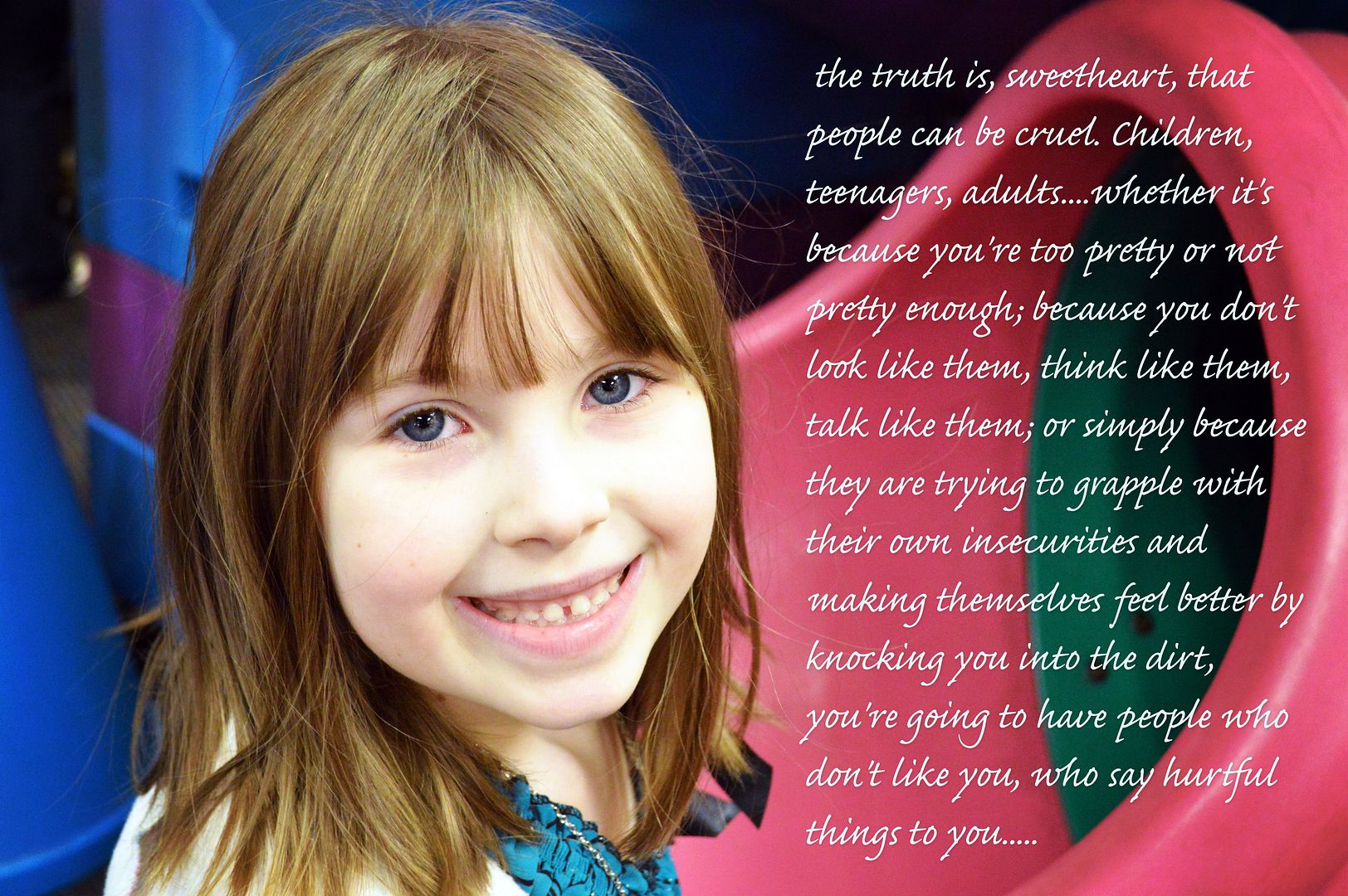 Dear Amber,
I always knew it would come, this day. The one where you came to me and said, "Mom, Ella was mean to me today–she and Jayla said they don't like me and don't want to be my friends anymore."
In that moment I wished I could tell you.
I wished I could tell you that if they just got to know you a little better it would be fine. That everyone who looks into those big, beautiful blue eyes of yours will see what I see–a beautiful, passionate, excited, joyful, tender-hearted and innocent little girl who is beyond lovable. I wish I could promise that because you're so wonderful, so special, so darling that everyone will always like, will always be kind to you.
I wish I could….but I won't.
I won't because it's not true, and I won't lie to you. No, not even though you're just five years old. Because the truth is, sweetheart, that people can be cruel. Children, teenagers, adults….whether it's because you're too pretty or not pretty enough; because you don't look like them, think like them, talk like them; or simply because they are trying to grapple with their own insecurities and making themselves feel better by knocking you into the dirt, you're going to have people who don't like you, who say hurtful things to you.
I wish I could say that it won't hurt, but it will. I've cried several times over hurtful things others said about me and to me out of cruelty.
But I can promise you this–they're not worth your tears. These are people who are not worth your time, energy, thoughts, or distress. Don't bend over backwards or go out of your way to show them how wonderful you are. Be kind to everyone, a friend to all, turn the other cheek when they slap you, do good to those who hurt you–but walk away from those who are cruel. The ones who smile those sticky sweet smiles to your face and then stab you in your back. Give them a wide circle–even if you could get them to like you the price would never be worth it, you're better off staying far away!
But there's a bright spot, sweetheart. There are wonderful people out there. True friends who won't talk about you that way–who will gush about you behind your back and defend you to those who would dare say otherwise. People who will look into your eyes and see all that I see. Those rare and wonderful "kindred spirits" who will touch your life and change you forever. There might only be a few, and they might change over the years, and that's fine. Just appreciate them, love them, and try to always spend time with others who will continually support you and also challenge you to become all that you can be, especially those who will continually help you walk closer to God–those who will confront you to your face and urge your heart towards its full purpose.
And always remember, even if the whole world was to turn against you, God created you, He knows you by name, and He has a special plan for you–He sent his very own Son to die for you! So if He is there for you then who can you fear, who do you need to impress?! Also never forget your Mommy will always love you, more than you can imagine, and will be here to be a friend who always thinks the world of you and sees you for what you really, truly are.
Love till the end of time,
Mommy