I am a member of the Collective Bias®  Social Fabric® Community. This shop has been compensated as part of a social shopper amplification for Collective Bias and its advertiser. As always all opinions shown, thought, and sniffed here are 100% my own! #CollectiveBias
So for some reason lately I've gone into a wild and crazy reduce, re-use, recycle kick. I'm pretty sure Pinterest might be to blame.
So for Mother's Day I asked hubby to set me up a recycling center and compost bin as my gift from him and the kiddos. I was already starting to collect the things to recycle, but since there was no official way to store or keep them yet it was beginning to look like our garage was a big assortment of random trash piles–not cool! Especially given the fact that one of the things East Texas is infamous for is its pest, rodents, critters, and insects. I knew that if I wanted to recycle I needed a step-up in how I was handling things that would encourage recycling as much as it would discourage pests!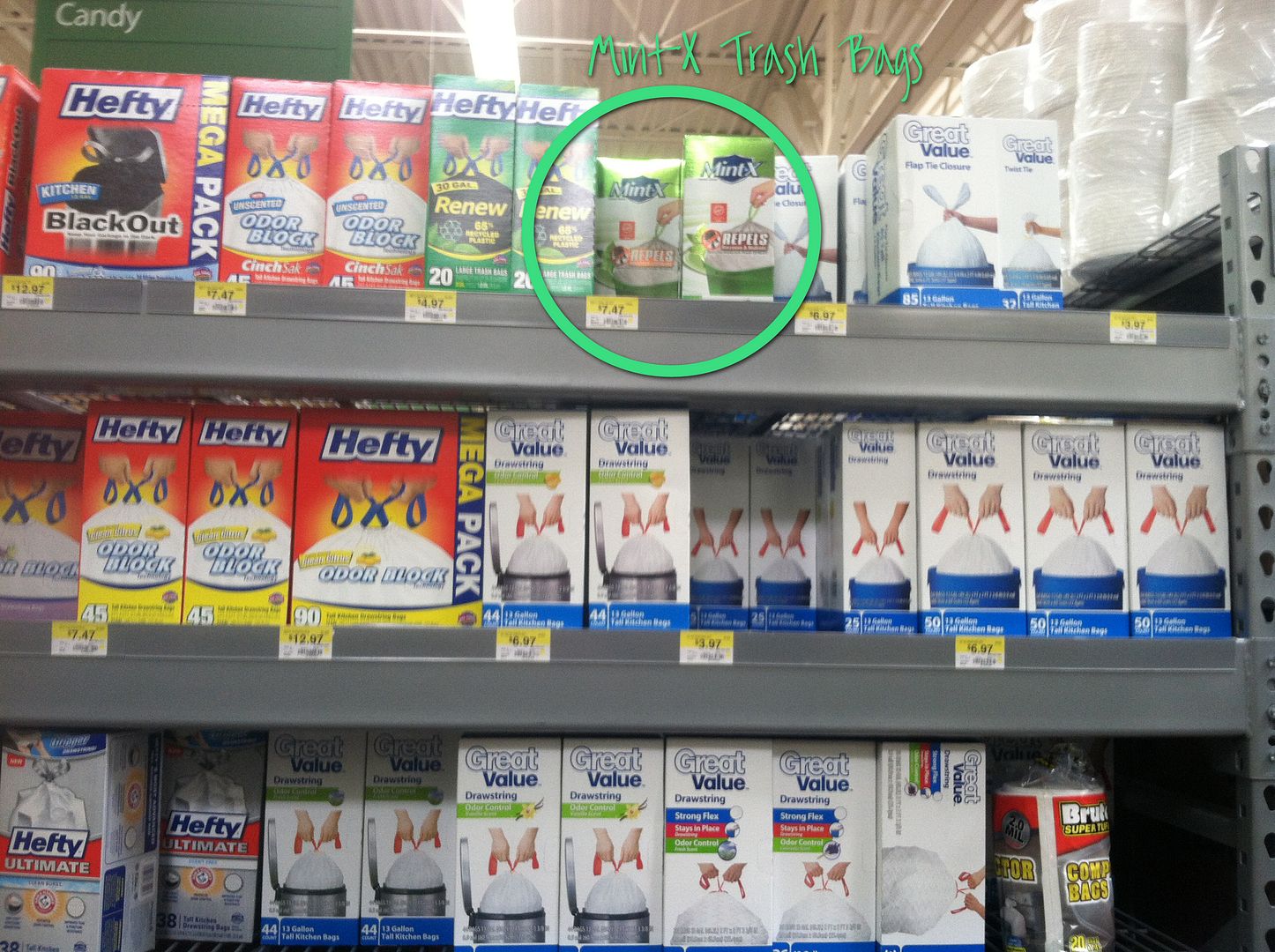 How To Set Up a Pest Free Recycling Center
My Recycling Center was our first project, and happily we were able to find everything that we needed for it at, of course, Walmart! We went in specifically looking for products that would be easy and functional; but also keep rodents, insects, and other pests away from my recycling piles. I wanted to recycle cans, plastic, and paper to begin with. Although I rinse out the cans and plastic containers before storing them we do leave our garage door open all day. Add to that the fact that we've found mice in the house before, and the fact that Apollo just killed a HUGE rat and left it on our back step as a "present" last week, well, I knew we needed to buy some great products!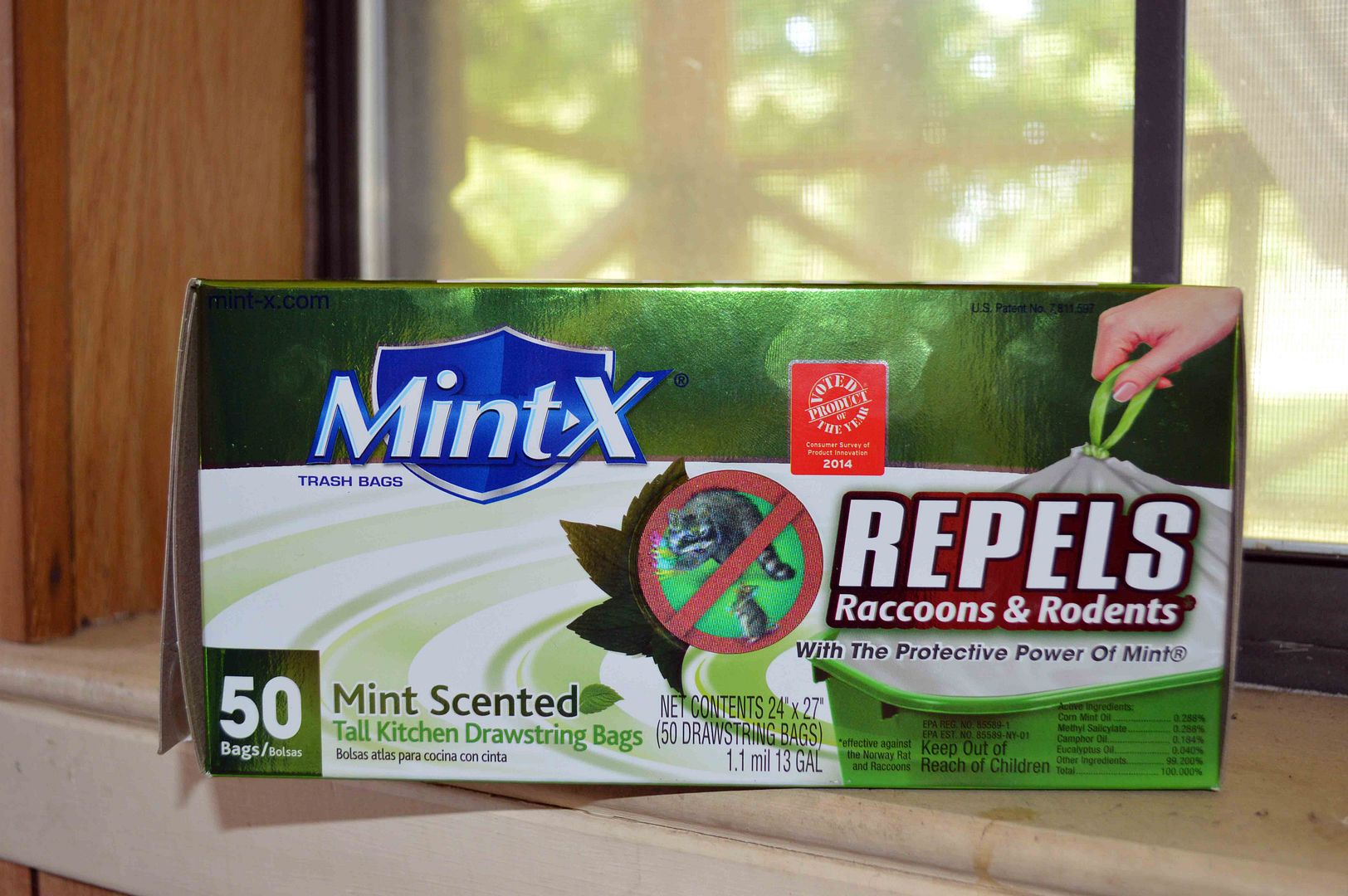 We got 3 large, durable black trash cans with lids, neon green spray paint, letter stencils, and Mint-X Garbage Bags. I was happy because in typical Walmart fashion even though we got specific items for exactly the solution we needed everything was extremely affordable!
Hubby worked his awesome magic on the trash cans while I learned more about the garbage bags. I was intrigued because they repel raccoons & rodents using the power of mint–the real stuff! They're infused with 4 plant-derived oils, and they're also made in the USA! If for some strange reason you don't have a Walmart near you that carries them, Mint-X Garbage Bags are also available at a wide variety of locations–just click through to find a spot near you or you can order online!
While I was checking out the bags I noticed that they had specific best practices to discourage rodents to use when you set up your recycling bins (or garbage, as the case may be). Although our trash cans were brand new and I was only planning on using Mint-X in them, I did find it interesting. I can see how someone would buy the product and forget that they probably need to clean out all that stinky yuck that somehow finds it's way to the bottom of the can and will still attract little furry unwanted visitors! So if you'd like to give these a whirl definitely give your bins a good scrubbing first!!
Here's a video showing just how effective these nifty bags are, check it out, it's short and fun —>

Cool right?! I love that although mint is awesome for us, it's nasty for rodents–I think I will plant mint around my garden and compost bin now!!!
How do they really smell? Well unfortunately we haven't developed scratch n sniff computer screens yet–but I did put them to the test for you!
The verdict? I felt like I had just opened up a package of wintergreen gum. It smells that good! I actually love it so much more than the synthetically scented odor suppressing bags that we've been using for the house–I just might have to start using these bags inside as well!
Ta Da!!! I'm so excited about my new recycling center! (Is that weird….I feel like I'm finding this all a little too exciting…hmmm) But one thing is for sure, I know my wonderful in-laws will be even more excited I'm not setting out a welcome mat for icky critters with my new, earth-happy habits! 🙂
Do you recycle? What are your best methods for keeping the nasty critters away? I'd love to have you tell me in the comments!