So, I may or may not have a problem. I'll let you be the judge. Lately I have been into purple–I mean really into purple. As in I currently have dark purple hair-if that's not love for a color I don't know what is. So when I found out that Radiant Orchid was going to be one of THE "it" colors for 2014 my little heart did happy dances!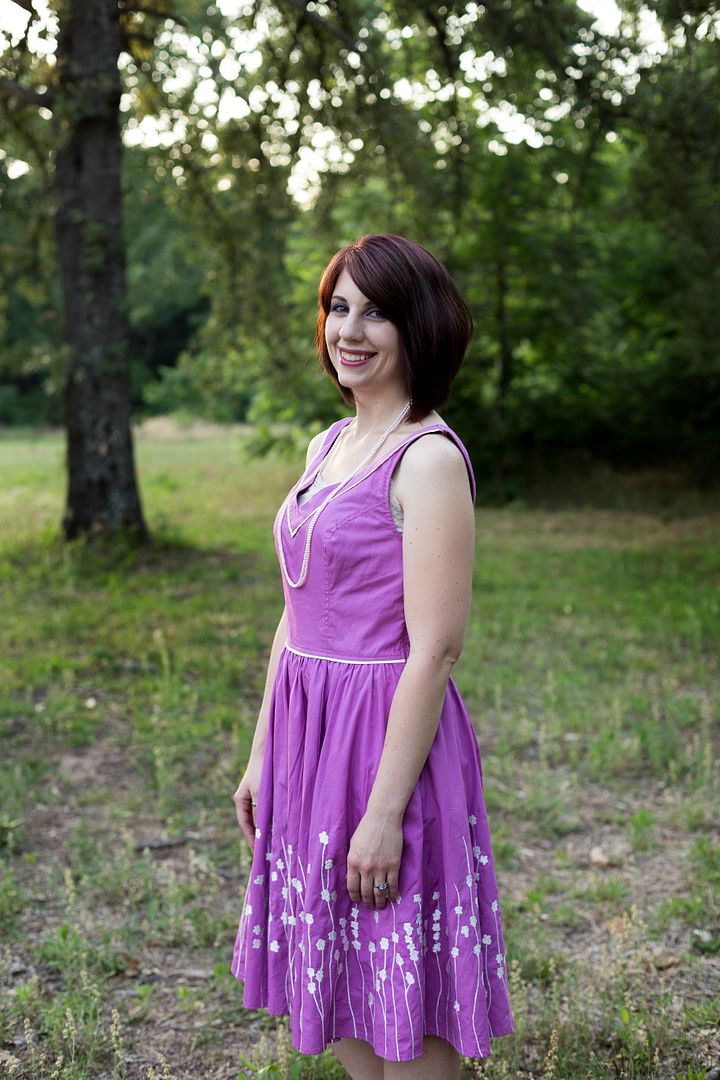 I knew I needed at least one amazing piece in this color, and since it was a trend that I knew would flatter my skin and also seem timeless as well as trendy I wanted a piece I could wear long after 2014 has come and gone. When eShakti reached out to me to see if I'd like to review one of their newest Spring pieces I knew it was a match made in heaven.
You probably remember that I have a long-standing love affair with eShakti that started when I first fell in love with this darling dress and then continued last spring with this lilac number (ok so maybe I've been fixated on purple hues for awhile). I've also continued to add to my collection with a few other pieces I purchased for myself–I love them that much!
I'm happy to say that in addition to being adorable and comfortable (don't forget all their dresses come with pockets!!) I love how high quality and durable the dresses have proven. I still get compliments by the bucket loads every time I wear one of their dresses and after several years of frequent use my first dress looks like the day I took it out of the package!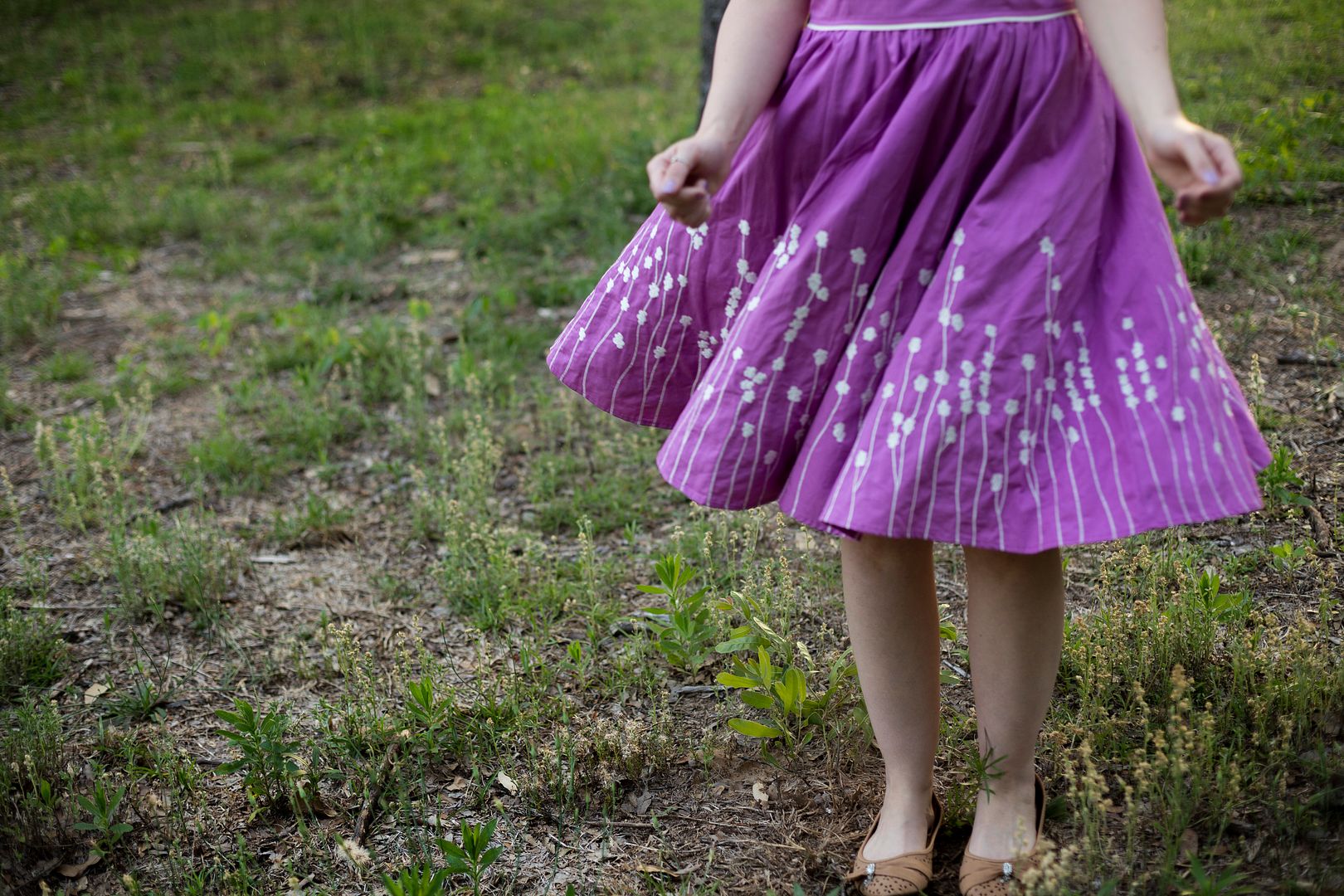 Remember how I said a great dress for me was in the details? This one has them by the bucketloads–my photographer and I are both madly in love with the embroidery on this dress–it gives it such an amazing and unique feel to it. And yes–the skirt is totally "spin worthy"!!
Once again I took advantage of eShakti's amazing customization options–this dress originally came as past knee length. I'm finally resigning myself to the fact that at 5'5″ I am more on shorter end of the height spectrum, so lately I've been favoring knee length skirts and dresses as they don't "chop" me off quite so much. I put in a custom order to have this hit my knee and gave them my height and Voila! a perfectly gorgeous dress that fits and hits me just right!
I felt like Alice in Wonderland prancing around in my lush, green back yard wearing this gorgeous dress! And yes–this literally IS my backyard–all of these photos were taken on the property we live on right now, so that makes them even more special to me–no wonder I look so at home in them!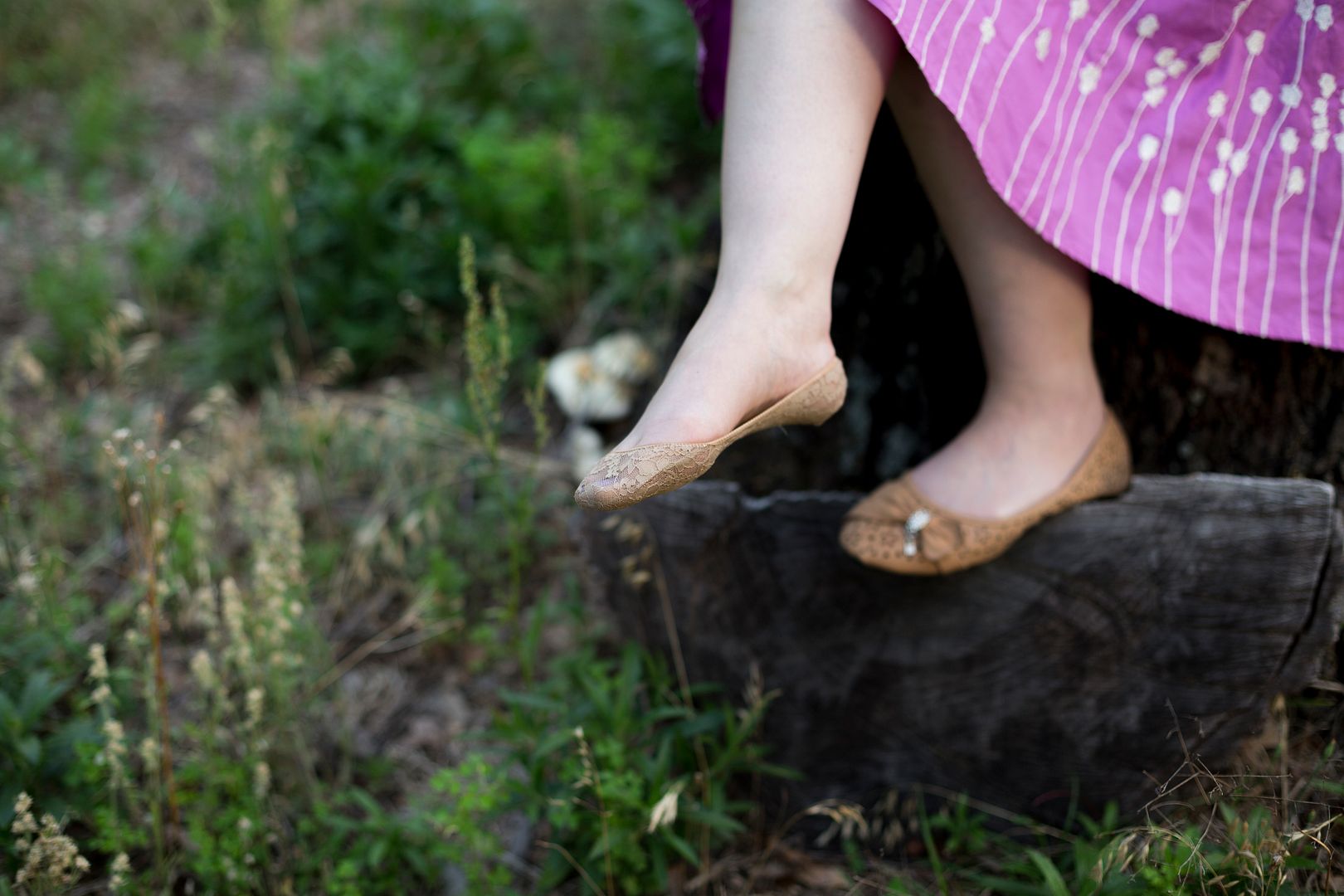 As amazing as my dress is, it would be totally ruined if my accessories, like my shoes, didn't perfectly compliment it. I'm so in love with these darling pair of flats that I thrifted. They are just the teensiest bit big for me, however, and not super comfortable so I need to wear socks with them. Since they have such low sides this becomes a problem–or it would normally.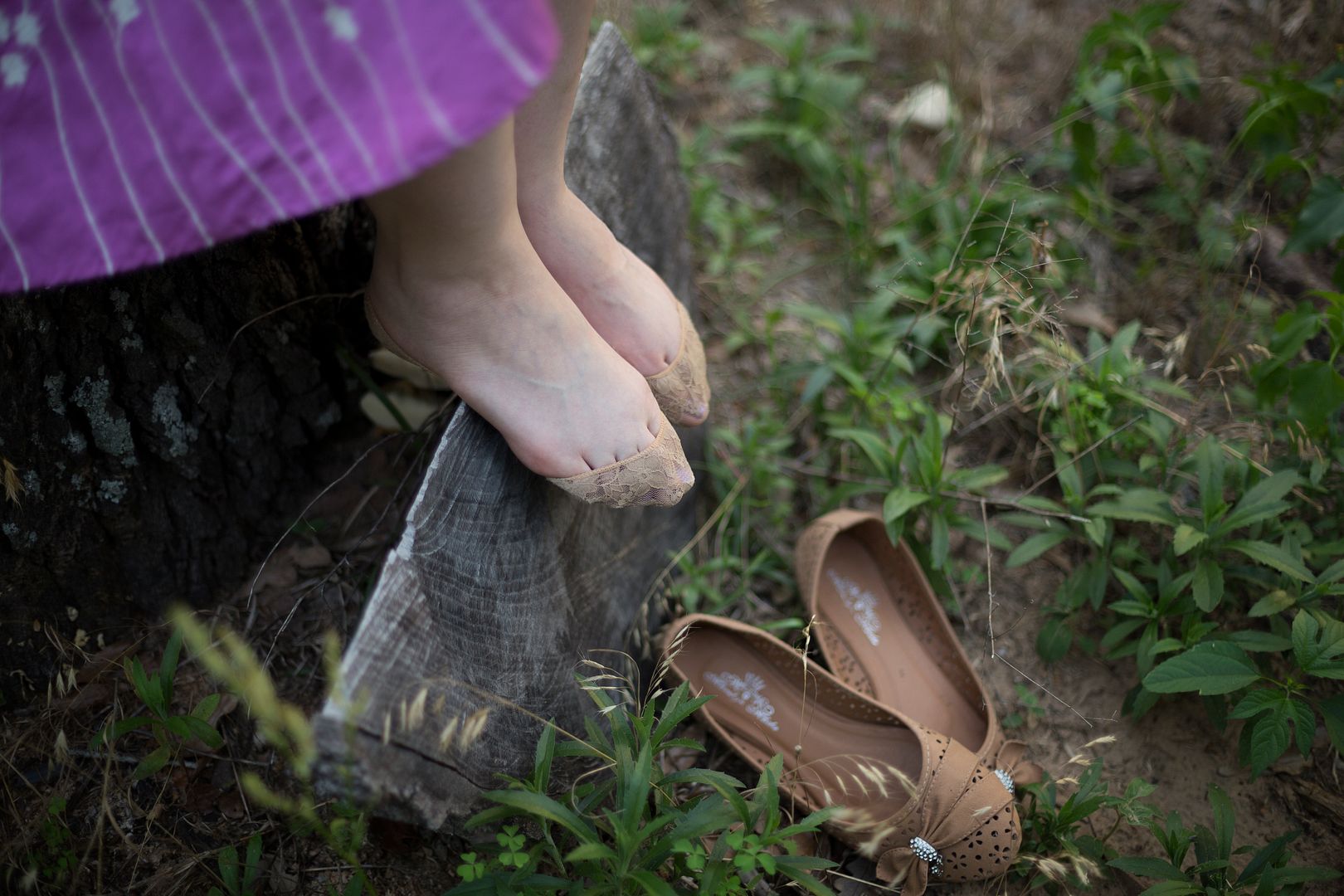 Kushyfoot to the rescue! You might also remember I have another long lasting love affair with their products which started when I spent too much money on similar socks that promised a lot but didn't deliver. I've been hooked on Kushyfoot's amazing no slip and padded foot covers ever since trying them out for the first time! In the winter I fell equally in love with their knee highs and tights that I shared with you in How To Fall In Love With Dressing Up … As An Adult!
I think that these darling and whispery barely there Extreme Low Cut Lace Foot Covers just might be my favorite Kushyfoot products yet, however! They were so perfect for this outfit and my shoes! I also love their new sheer anklet and their cotton sport foot cover has come in great for my work outs!
What color are you currently obsessed with? Leave a comment and let me know! P.S. What do you think of my outfit and purple hair?!
as always a HUGE thank you to Arrow&Wren Photography for the amazing photos. And thank you to eShakti and Kushyfoot for providing the products show in this post. As always and forever all thoughts, ideas, modely poses and twirls are entirely my own.