This shop has been compensated by Collective Bias, Inc. its advertiser Finish dishwasher cleaner
All opinions are mine alone. #SparklySavings #CollectiveBias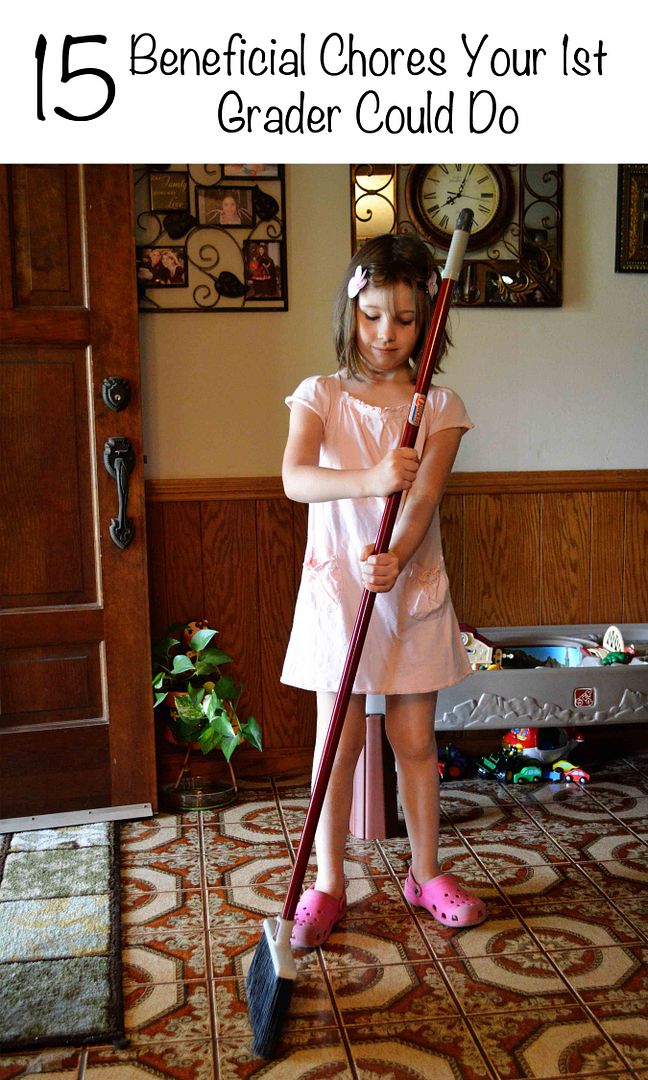 I've always had a strong feeling that kids should pitch in and contribute to the family, but until this past summer I somewhat underestimated just how much young children are actually able to do! It wasn't until we instituted the Ticket System that I realized just how much my children could do–and even enjoyed doing. This was especially true of Amber who at 6 1/2 I realized could do a TON around the house. This has been such a huge blessing to me as I work from home–and it's been great for her as she learns to contribute to the family and also gets rewarded for it through our system! She does everything on this list well and consistently–though obviously she's not doing every chore on this list every day or even every week. I love that with the ticket system she has the option to pick and choose depending on what she feels like, what needs done, and what she would like to earn towards. There will be times when I'll tell her to do something–but even then we have no bad attitudes since she knows she'll be earning tickets for it (and that if she does have a bad attitude she will still have to do the task but then lose the tickets)!
So if you have a first grade (or older) child in your house here are 15 chores they could be doing!**
15 Beneficial Chores Your First Grader Could Do
1. Sweeping – Be sure you demonstrate to your child (probably a few times) the correct way to sweep. Another way to make this successful is by purchasing a shorter broom if you'd like to avoid them wacking everything! As they're learning be patient and point out the areas they might have missed.
2. Mopping – same tips as above apply here! If you're using a bucket use one on wheels–you're less likely to have large, spilling accidents. I usually fill it up and deal with the cleaner (to avoid her putting a WHOLE lot in) but then she does everything else!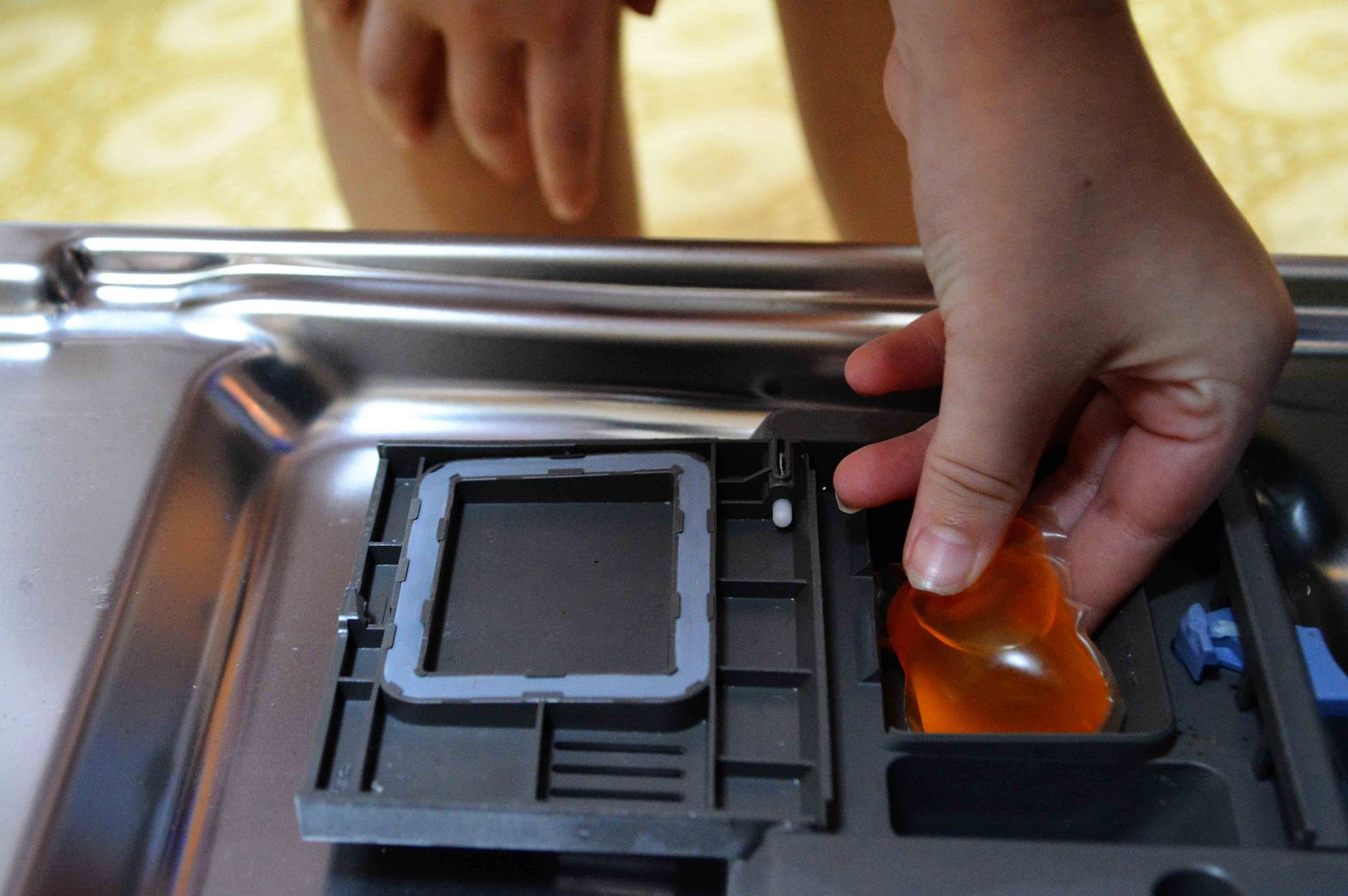 3. Doing The Dishes – With the  wonderful convenience of dishwashers and new products this job is an easy one! If your child isn't tall enough to reach the sink have a sturdy step-stool handy. Again you'll need to walk them through the process by having them help you several times–but you might be surprised just how quickly they catch on and before long they'll be able to load it up all by themselves! You can also show them where to get the dishwasher detergent and how to load it. In my opinion the best dishwasher detergent to use is the Finish All In One Gel Packs or the Finish Powerball. They make the job super easy for kids (no messy pouring/spilling possible) and if you buy them at Walmart when they're on rollback, and add a coupon on top they are actually super affordable! 
Right now this is exactly the deal I got! You can go print off a $1 off coupon for almost any Finish product and they're all on rollback until October–a great time to stock up!
They can also put away dishes–especially silverware. If there are any very heavy pans or fragile items that are important just have them stack them neatly on the counter for you to put away. Also teach them how to tell when they need to put more Jet Dry in–squirting the blue bottle and filling up the Rinse Aid is something they think is super fun.
Having a clean dishwasher that I had very little do with is one of my favorite things about chores!!
4. Vacuuming – For this I'd recommend purchasing a lightweight vacuum if at all possible. This is one of my favorite jobs for my daughter to do because it's easy for her to see where she's vacuumed and what still needs to be so I rarely have to follow up with tips!
5. Serving Breakfast – Every morning my daughter serves her and her little brother breakfast. I showed her where everything is kept and she knows that they can choose between yogurt, a bagel with cream cheese, and cereal with milk. Having her take care of this each morning has made the mornings run SO much more smoothly!
6. Preparing School Lunch – If your child loves pb&j sandwiches you're in luck! Sandwiches are easy to make and between that, filling up their water bottle, and putting some fruits or veggies into a bag your child can prepare their school lunch for the next day. My daughter loves to do this because when it's her turn to do it I let her pick out what she wants to eat!
7. Dusting – The easiest one! Even a 3 year old can help with dusting flat, low surfaces. By the time your child is in first grade they can advance all the way up to dusting around and on picture frames. To make it easy for them be sure you have one of those dusters with a handle and removable "puffy" end or a feather duster.
8. Watering Plants – Another easy one and a favorite that my kids fight over who gets to do it! To encourage even more interest have them plant seeds so they can check on their growth each time they water!
9. Feeding/water animals – A classic chore! First graders can easily scoop food and water if you give them smaller scoops to do it with. An easy reminder is for them to feed them when they eat–at breakfast, for example.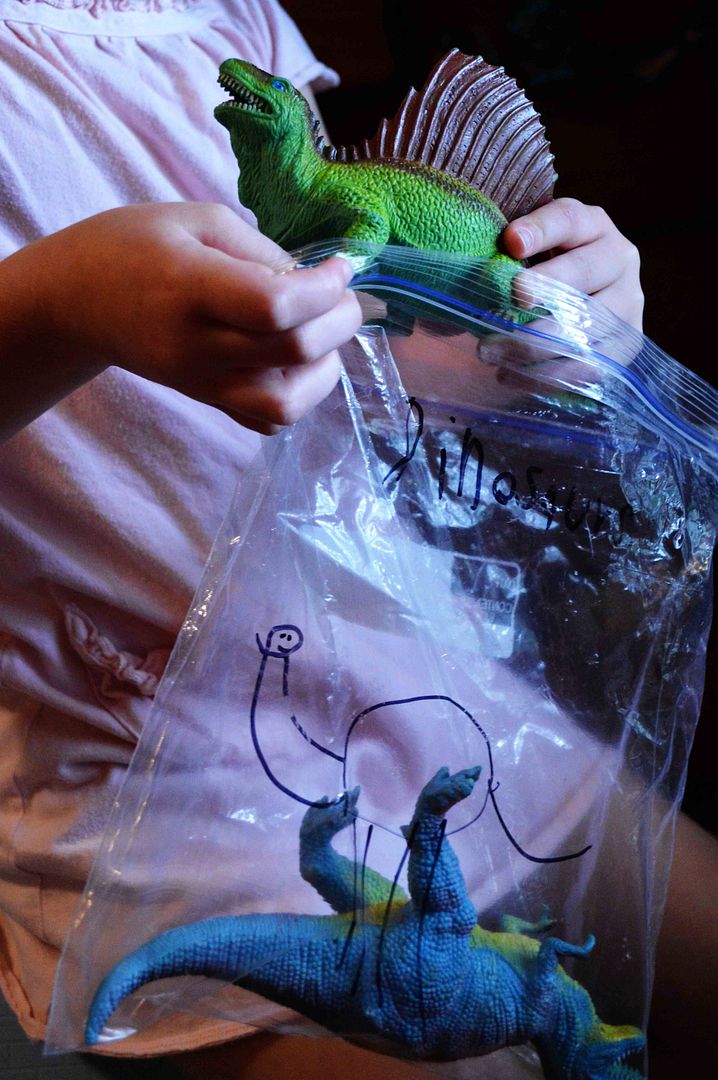 10. Organizing/Sorting – Is their room a disaster or do you have a "spare sock" bag that's a little TOO big? Take care of this by having them sort and organize for you! Things like sorting through socks to find pairs are obviously easy tasks. For rooms try something like having them create ziplock baggies or boxes and writing and drawing on them what will go into them (Zoo animals, legos, small trucks) and then they sort everything in there that goes into it.
11. Keeping their room tidy – Once you've helped to create a "place for everything" in their rooms by organizing and sorting it will be much easier for them to keep their rooms picked up. Encourage them to only have out whatever they're playing with at that exact moment–it's so much easier for them to pick up one small mess rather than get overwhelmed by a room that is a complete disaster and they have no idea where to start!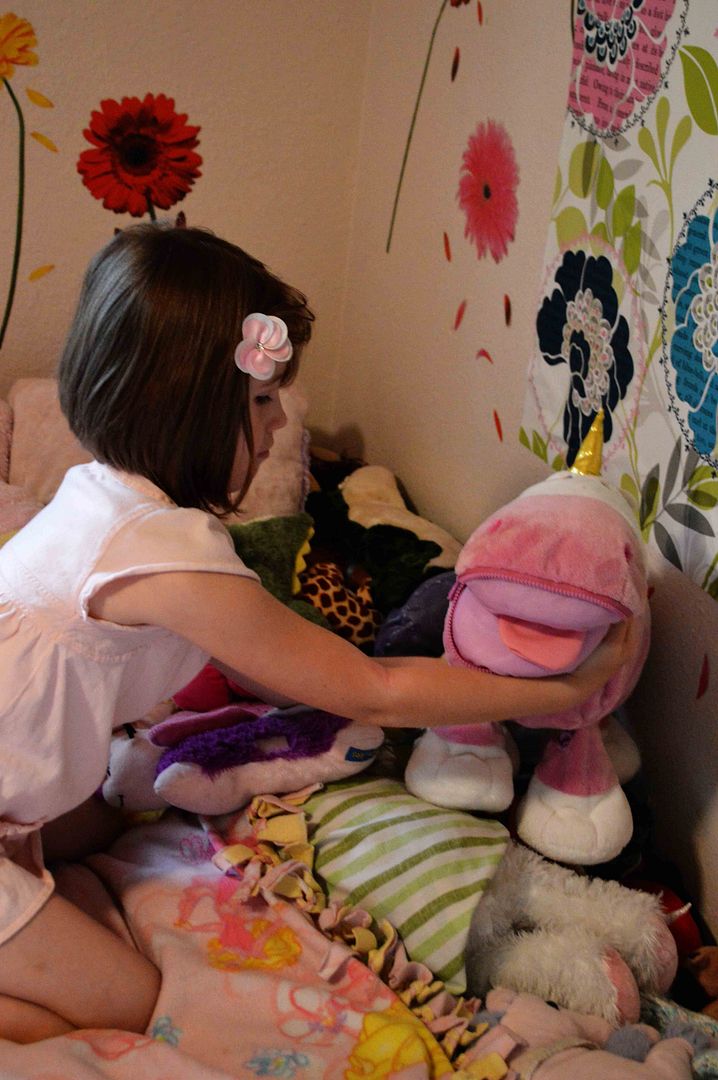 12. Making their bed – Show them how to pull up the sheets and Voila! They can make their bed each day. It doesn't have to be super neat at first, but having them smooth it out and arrange their stuffed animals is a great chore that's easy to handle. If they begin to become overwhelmed by having to arrange their stuffed animals/dolls/toys on their bed each day there are a few options! The first is to encourage them to store them somewhere else other than what they actually sleep with.  What we did with my daughter is had her put all the ones she no longer wanted (I was surprised how many there were) and I boxed them up into 2 different batches and put some away to rotate out and the others we donated!
13. Completing a morning routine independently – In addition to the list of all the tickets they can earn, my daughter has a separate list of each morning activity that she needs to do each day. The night before I set out her and her brother's clothes on their bed and then as soon as they wake up they get dressed, brush hair, serve & eat breakfast, make their bed and take care of feeding the dogs. I know these are a lot of the above chores lumped into one–but the point is that they should be able to do this without you having to bark orders–you simply ask if they've done everything on their list, and make sure they know they are not allowed to do anything until its taken care of.
14. Doing (most of) The Laundry – Although they won't be able to do it from start to finish my daughter helps me out with laundry every step of the way. She helps me sort it, and then I turn on the water and she puts all the clothes into the washer, transfers them from the washer to the dryer, starts the dryer, takes them out, and folds them! This is a huge chore but she gets rewarded in a huge way when she chooses to do it!
15. Assisting in Cooking/Baking – Stirring, measuring, getting out all of the needed ingredients, prepping veggies with kid safety knifes–at this age there's all kinds of ways they can help you prepare dinner! My kids especially love helping me bake–for obvious reasons!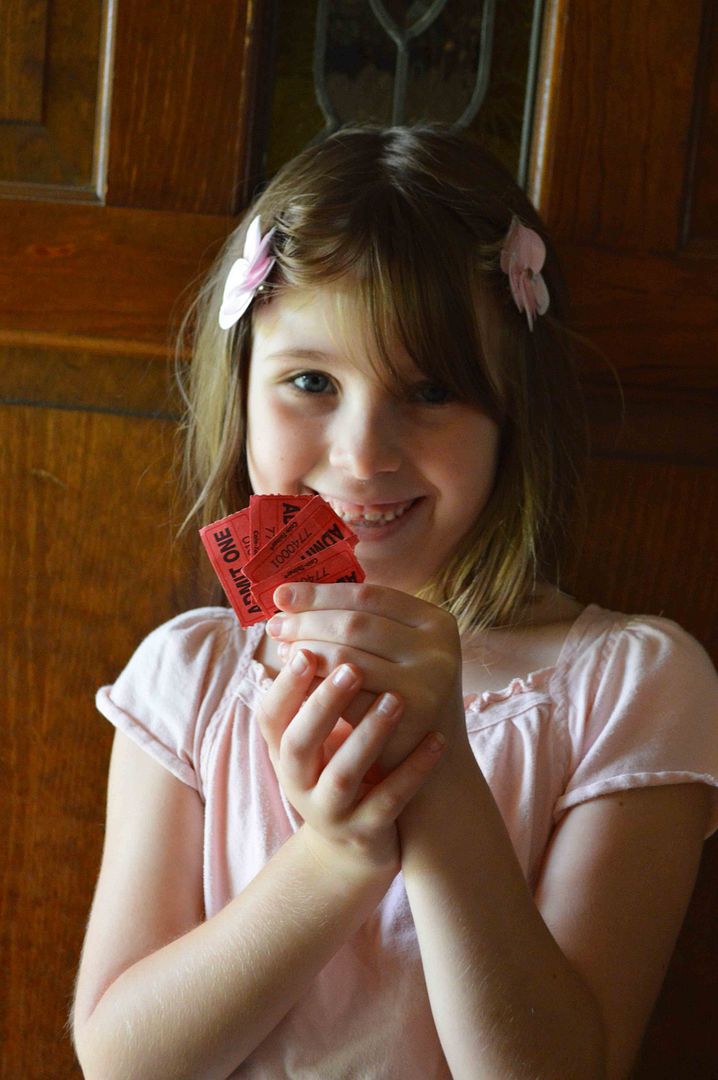 So there you go! 15 Beneficial Chores Your First Grader Could Do–how many are your children doing? Are there any that I missed? Leave a comment and let me know!
**Of course–every child is different.  Amber is very mature and efficient for someone her age–so how much of these your first grader will also be able to do will depend on the makeup of your individual child. This list is a great place to help you think of things to have them try, and you can tweak it from there!