This shop for a microfiber spray mop has been compensated by Collective Bias, Inc. and its advertiser. All opinions are mine alone. #CleanForTheHolidays #CollectiveBias
The most wonderful time of the year is also usually the busiest and can quickly turn into the most stressful! If you're in any work field that revolves around retail or service the holidays are the definitely the busiest time of year; plus add to that the extra activities, traditions, decorating, travel, hosting family and friends, and all of a sudden keeping up with the day to day basics can become more than just challenging!
I shared with you this summer about our ticket system and my plan to empower, enlighten, and enrich my children's lives by allowing them to help out in our family and give to others. At the beginning of the school year I also shared 15 Chores Your First Grader Can Do. While all this is great, this time of year it's sometimes easier to default into the mode where it's more of a fuss to try to involve your kids than it is to just do it all yourself–especially when they start to fuss about helping!
In order to head this off in our own family I've tweaked my plan of attack for the school year, and in particular for the holidays! Here's what's working for us and hopefully you can implement some of these Mom Hacks for the holidays and help make those last minute clean up sessions and day to day chores a little more productive and a little less drama filled!
How To Get Your Kids To Help Out Without A Fuss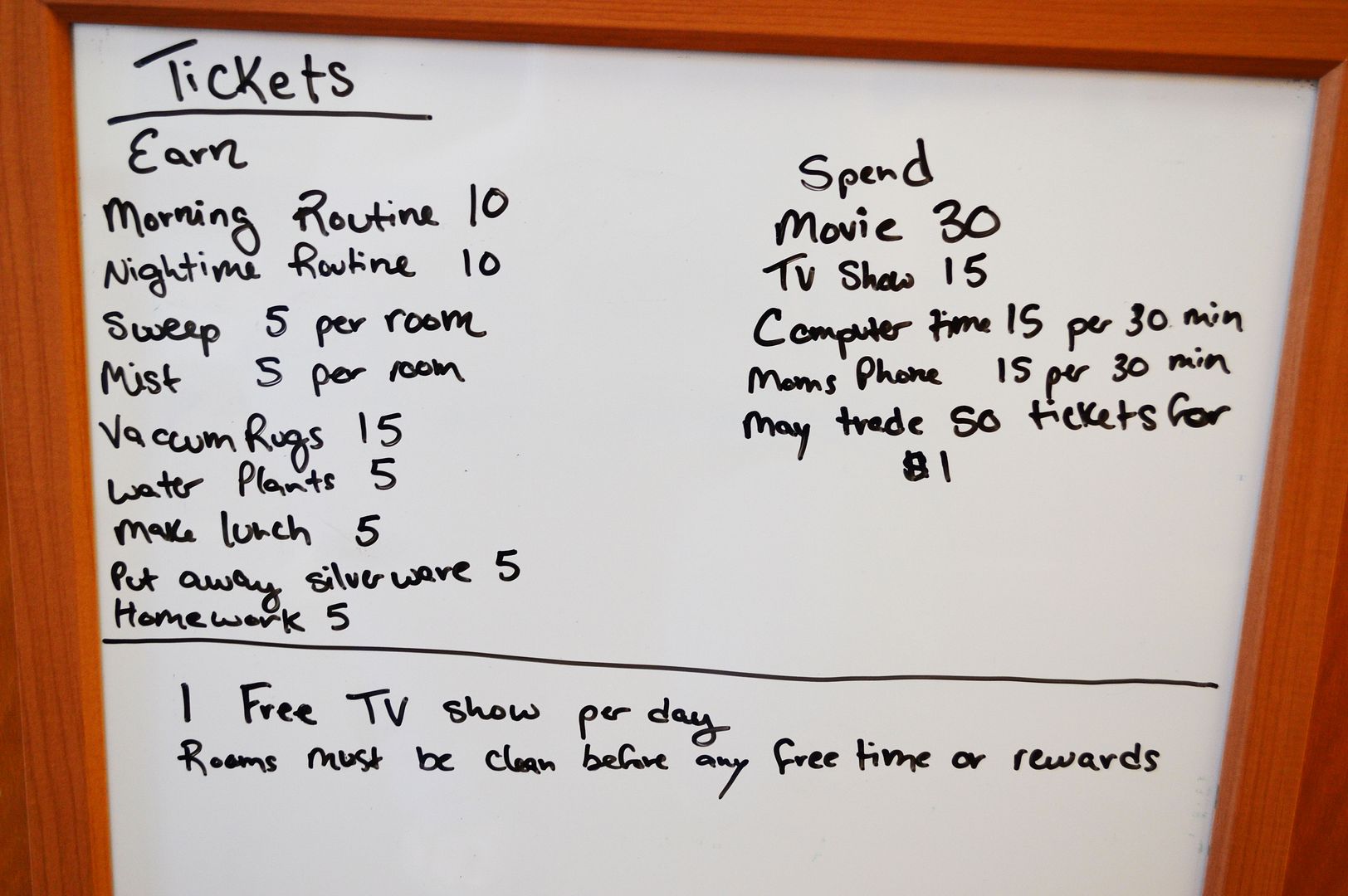 Simplify! While a complicated and detailed system worked well over the summer, I quickly realized that with the busyness of the school year and holiday season we were already defaulting into a much more simplified version of our original system. I rolled with it and tweaked it until I came up with a much more simple system that built in rewards each day, while also requiring the kids to help out and be responsible for themselves daily, and then anything they do "above and beyond" that will help me out is rewarded.
For each item (especially the each-day ones like the routines) they must be done without any "fuss" on either my part (having to tell them a million times) or theirs (bad attitudes) to get the tickets for them.
Our "Free" TV Show is their choice of several educational programs (Wild Kratts, Super Why, LeapFrog) and then for any "fun" additional shows they're required to pay. I also built in that their room must be picked up before watching the show–enforcing putting away things as they play with them and also that they don't get an "extra" reward for doing things that are expected (you make a mess, you clean it up).
Instead of trying to come up with a cutesy printable or chore chart (remember the idea is to simplify here!!) I recommend just writing it out or drawing pictures if you have non-readers. I love using a dry erase board put up in the kids room so that way I can change it easily as we go from season to season and things change.
Re-evaluate Your Tools We just moved over the past few months into a new house, and went from having nearly all carpeted floors to virtually all wooden ones. This meant it was time for me to go buy us all some new tools designed for hardwood floor cleaning! Even if you haven't moved it's still a great idea from time to time to visit what you're using and look around to see if there is something that could do the job easier, better, or less expensively for you and your kids.
While I was in the cleaning aisle at Walmart I found the O-Cedar ProMist next to the mops and brooms. I instantly loved the concept! It had the convenience and ease of a spray mop and pad, but it's unique in that you can use any of your favorite cleaning solution and the microfiber pad is reusable–just wash it and use it again, so much more cost effective and less wasteful than the ones you throw away each time!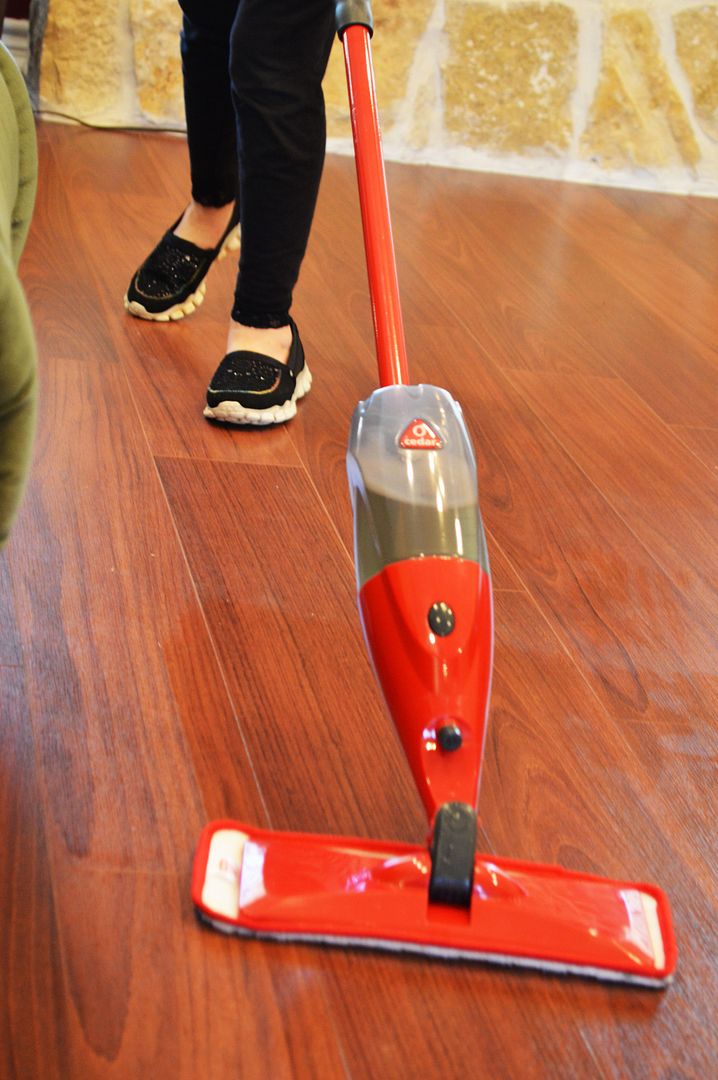 I'll be honest, originally I was just thinking of how well and quickly it would work for me, but when we got it home I realized that it was a great find because the kids instantly started trying to decide who would get to use it to clean. I assured them there was enough house for both of them to take a turn!
It's easy enough to use that even my 4 year old was able to do a good job on our living room floor, which is awesome! Ever since Amber's been back in school and had less time I've been trying to find ways that are simple enough that Tyler can help out and now this can be one of them! When we were using a traditional mop at the old house even Amber struggled with it and it was a chore Tyler simply couldn't help with, I'm so happy I found this easy and fun alternative that cleans even better!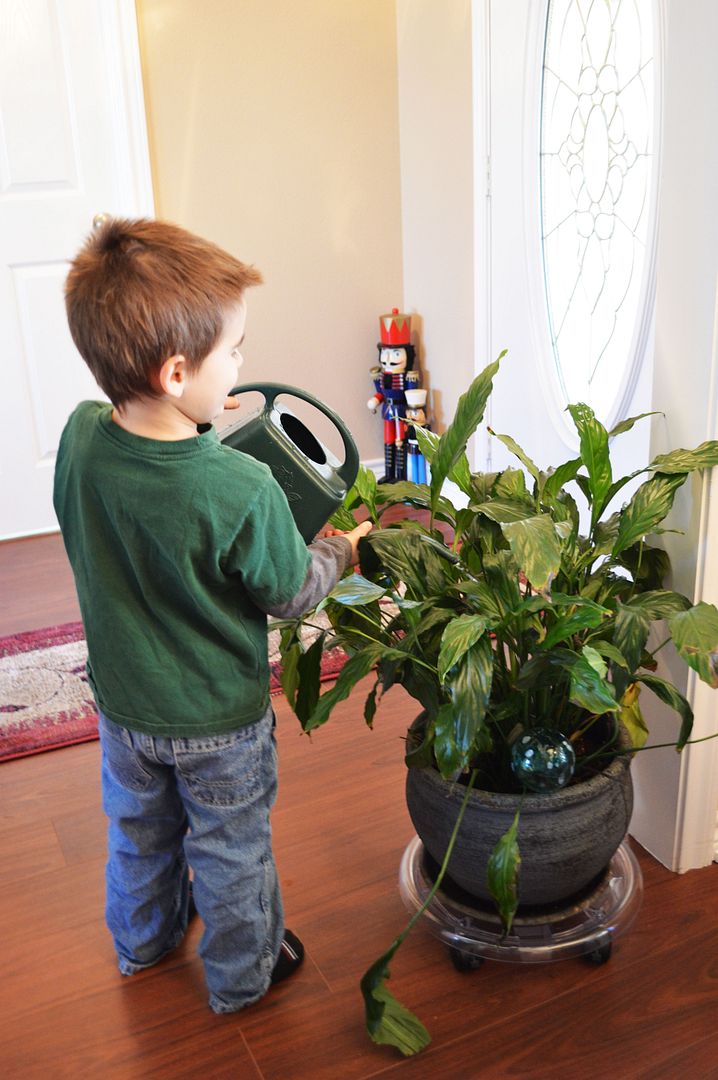 Have a Work then Play Day Since the holidays are such a hectic time it's hard sometimes to find a good balance of fitting in a little cleaning each day like I usually try to do. In order to make up for this I decided to have some days be "work then play" days. For the first part of the day as an entire family we all pitch in to get everything looking fabulous and caught up once again, and then as a reward we play together once everything is! This helps us ALL not to fuss because we have the fun to look forward to after we work, and it encourages to go quickly!
For us this this past weekend this looked like getting the whole house clean and then relaxing by having the kids each pick out a Christmas movie and then snuggling up and watching them together all evening while munching on holiday goodies. (Bonus points for movies–they don't make any mess to un-do your hard work!)
Other great ideas you might use this tactic for are having a work day and then going out for a Christmas program or driving around to see Christmas lights. This method is also especially great when you have things like family and friends coming over for the holidays or parties that you might be hosting!
How are you staying on top of the day to day business of life during the busyness of this season? I'd love to hear your ideas in a comment!