This shop and post about doing a little Extra has been compensated by Collective Bias, Inc. and its advertiser Extra Gum. All opinions are mine alone. #ExtraGumMoments #CollectiveBias
It's the season of giving!! One of my favorite things about this time of year is being able to give back to those in my life who give so much all year long. This year I wanted to make sure to take some time to really give some Extra special gifts to an extra special person in my life–my mom!
My mom has done so much for me in my life, it's hard to know where to start! Just the unconditional sacrifices and love that good Mom's make each and every day as they raise their children means more and more to me each year as I raise my own kids. Ever since Amber's been born I've been finding myself calling her on the phone saying things like, "Hey mom? Thanks for cleaning up my puke!" Because, really, it's something that I'm so thankful for now that I realize how totally thankless and unglamorous climbing out of bed multiple times in one night to take care of a poor, sick kiddo is!!
Above and beyond raising and homeschooling four kids and everything that entails, my mom has continued to be my rock and my support all throughout the almost 10 years I've been away from home and starting a family of my own. We've kept super close despite being thousands of miles away from each other, and I still try to call at least once a day or every few days and we almost always end up talking for a super long time, thank goodness for cell phones and no long distance these days!
A little over a year ago just as the last of her kids was ready to leave the house my parent's lives took an unforeseen turn and they ended up moving in with my Grandma Romero to be her companions and caregivers. The brunt of this fell on my mom as my Dad works full time still, and so she's patiently been helping out her mom-in-law ever since.
Just over the past few months my Grandma's situation and health have rapidly and unexpectedly deteriorated, and this has been so super hard for my mom and increased the difficulty of the situation exponentially. I admire her so much for her selfless sacrifice and the strength that she's shown and continues to show through it. Her willingness to quietly do what needs to be done, when no one else will, is just so amazing to me!
She's been so in my heart that I really wanted to give some Extra special care to her Christmas gift this year, and let her know how much I appreciate all the Extra above and beyond things she's done and all that she continues to do!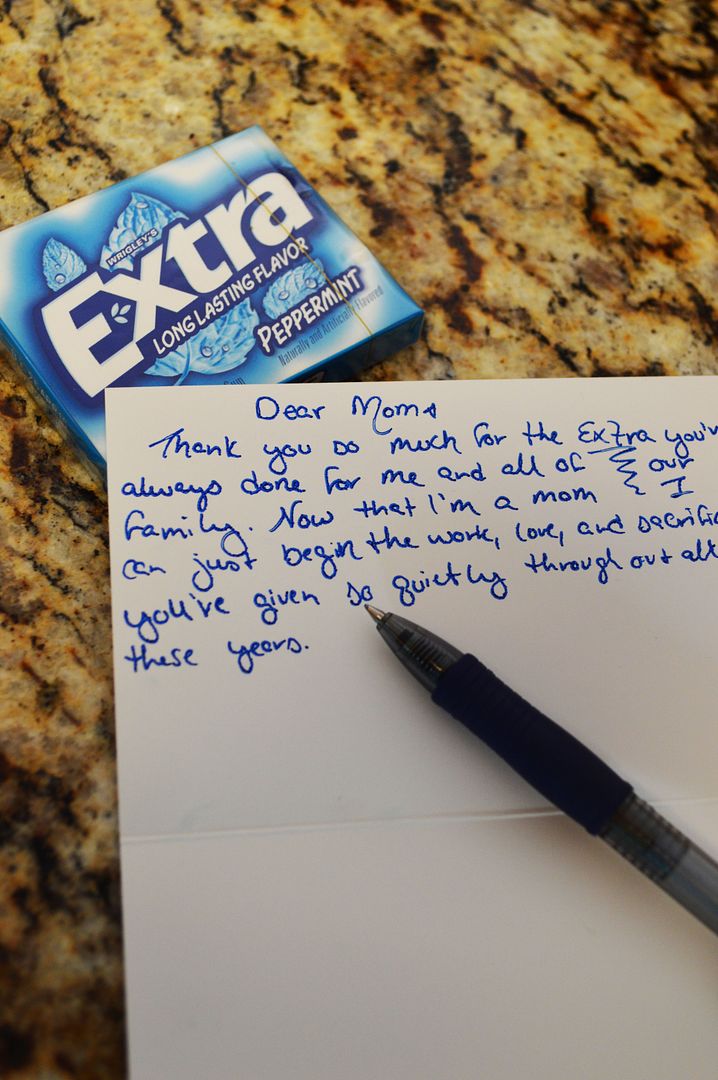 I truly feel that the best way to let someone know you care and appreciate all they do is simply to tell them! Tell them all that's in your heart, and take the Extra step to actually put a pen to paper and write it out. I really do love all modern technology and that I can keep in touch through texts even on days we can't talk on the phone. Certain things, however, just deserve to hold more weight than a keyboard and email, and for this kind of an Extra special note you're going to want to dust off those cards and envelopes!!!
Now that you've gotten a super special, meaningful note include all kinds of things that would let the recipient know you appreciate all the Extra that they do! I wanted to create a gift basket for my mom that would really promote her taking some time for herself and relaxing! This is something that is in short supply, but that is going to be SO important for her to make it through this rough patch!
The gifts I included are:
A Heartfelt Thank You Letter
Extra Gum — to play on how this gift is to say thank you for all the Extra things she does
Keepers of the Covenant — when I read and fell in love with Return to Me I had to buy it for my mom, she loved it, too, and so giving her the follow up in the series was a no brainer.
Pink Chiffon Creamy Body Wash & Lotion — we're both B&BW fans and this is a reminder that a long, soaking bath can some times do wonders to ones sanity!
Candle — another soothing presence. This one is a light, comforting fragrance that I hope she lights while she reads the book above.
Pair of Pretty Earrings — because when you look nice you just feel better!
We are getting to travel up to Wyoming for Christmas this year and I'm thrilled that I'll be able to hand her all these goodies in person and then go order her to go relax while I cook up some dinner! After she's given so much for so long I'm looking forward to giving her a little extra!
Who in your life could deserve to get a little extra this year because they give extra? I'd encourage you to think of a family member, friend, or even community member like the police or a firemen and put together an "extra" basket this season–it will light up your life and theirs too! For inspiration you can check out Give Extra on Pinterest, Twitter @ExtraGum, and Facebook!