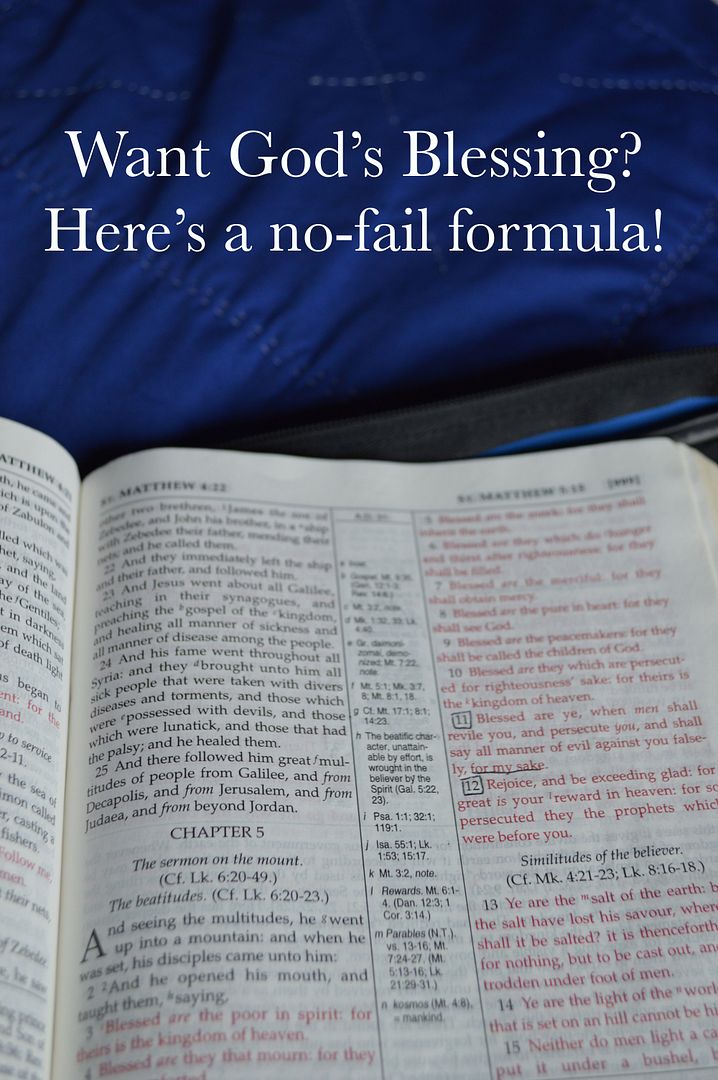 Through my "year of bless" I did a lot of thinking about wanting God's blessing, what that really, truly looked like, and how one goes about receiving it. Along these lines when I came across the Beatitudes (Matthew 5:3-12) during my reading through the Bible I thought — Hey! These are probably the most well known Bless verses in the Bible. I guess that means I should think about them a little.
I'll be perfectly honest, the Beatitudes never used to really "do anything" for me. Even when I did an in-depth Bible study with a group of women on Matthew a few years ago, this passage was one that I never really felt like I "got" and always seemed a little loftily-strange. Pure in Heart, Those who Mourn, Poor in Spirit – I pictured all these stereotypical "saints of old" pining away their lives for Christ. It didn't seem like something that I could really grasp at as a 20-something 21st Century American Christian, much less put into daily practice.
I also always saw these verses as being totally distinct from each other. Group A of people would have this happen to them; Group B of people will get this reward, so on and so forth.
Then two weeks ago at church our Pastor challenged us to grasp at a passage of scripture every week and really "chew" on it. I believe the "proper" term is meditate but the thought of chewing and digesting it worked for me. He suggested one of the best ways to do this was to read a passage several times, read commentaries on it, and then re-write the whole passage back out in your own words which shows what you're getting out of it and how God speaks to you as an individual through it. He showed us his example which was our passage from Romans for the day which he had "chewed on" and then turned into a "spoken song". It was extremely cool and I thought it was a great idea for passages that were either overly familiar to me or didn't really seem to "jive" with my life.
So I felt I should "chew" on the Beatitudes. I read through them in the ESV Bible several times and then studied them using this Blue Letter Bible commentary on them. The result was a new look at the Beatitudes that unlocks the no-fail formula to receiving God's blessing!
Now, before you get all worked up that my formula isn't correct, what I'm really describing as the "No-Fail Formula to Receiving God's Blessing" is the verses themselves, not my interpretation of them. However, this is what spoke specifically to me, so it might not be at all what you get out of them, but isn't that the beauty of scripture, that God shows us exactly what we need most out of it using the same verses? I challenge you to "chew" on this passage of scripture and meditate on what God has in it for you. I do truly believe that it has all the keys to how we need to live and the steps we need to take to be truly blessed by Him!
I quickly discovered that God has SO much for me in this passage, that each of these aren't at all separate groups of people but rather a beautiful picture of our relationship with God through Christ and all the "pieces" of the puzzle that we need to complete it. It also radically alters my perception of "My year of Bless". When you hear the word Bless are these the characteristics or results that you think of? I definitely didn't. How often do we think we know what God has in mind for us when He begins to tell us something? But that's an entirely different post!
So wow! I can now see why everyone is so excited about this part of Scripture! I learned and got so much out of this exercise–if you enjoy writing, or even if you don't–I'd definitely encourage you to do this! You might try writing a poem, or like I said my pastor did his as a spoken song, just do whatever comes most easily and naturally to you!
Here's the result of all of this:
Want God's Blessing? Here's a no-fail formula!
A New Look At the Beatitudes
Blessed are the people who realize they're not that important. The ones who are willing to look their sin in the face and realize that they're "the worst". The ones who come to grips with what completely hopeless, lost people they are. The ones who before God realize that they don't know best, they don't know anything. They are empty and hollow and can't be filled by anything they can possibly do for themselves. The ones who can't see to look around and judge, because they're too busy confessing their own horrific failures and pulling the telephone pole out of their eye.
They're blessed, because their kingdom is God's kingdom. They can receive the gift of His perfect salvation–because they know they need it desperately. God's kingdom of heaven is now theirs, because by emptying themselves they're free to receive Him and His strength and help for this world. The kingdom is theirs in part now, and will be theirs perfectly forever.
Blessed are those who after they look at their sin, hollowness, hopelessness are struck with tears. When they see the stinking refuse that is their pride, their greed, their rotten attitudes, instead of trying to argue it away or play it down by pointing fingers, they're struck with grief. They cry — literally — that they are so sorry. How could they act this way before perfection? In seeing their emptiness they truly, deeply feel the loss of fellowship with God and sink into sorrow because of it. It's hurts their hearts and grief seeps into their souls.
They're blessed, because God loves to wipe tears from eyes. He loves to say–"Yes your sin is horrible, yes it nailed my Son to a tree, but I forgive you, I forgive you." He loves to take that sorrow and turn it into comfort. Take the emptiness and fill it with praise. Take the wasted lives and turn them into ones with purpose. This way, they really are comforted.
Blessed are those who, when filled and comforted, remember where they were. How can you be proud, boastful, and judgmental when you have been desperately gripped with your own hopelessness and failures, when you've been lifted up off your face, dusted off, and given new purpose? Especially when in your core you realize that all the credit goes to God alone. How could you walk around with your chest puffed out when you didn't do anything but cause the problem? No, because of this you have learned to be lowly and gentle.
They're blessed, because God lays low the proud and exalts the humble. When they find their place in the Lord, He gives them the desires of their heart, because they're now the right kind of desires. Even if they never have much, He makes it so much more than the empty riches, possessions, relationships, and fame other might seem to have. The meek have a true wealth in this world that so many long for but never, ever find–security, hope, purpose, joy. The earth really is theirs.
Blessed are those, when they get these first tastes of God's amazing spiritual blessings — can't get enough of it. Like a nibble from a plateful of warm, delicious cookies, soon they want another and another and another. It's more than just a hunger. It's a "I'm starving" hunger, it's that deepest craving that you'll drive across town to fulfill, it's that $8 bottle of water when you're "dying of thirst" at an amusement park on a 105 degree day. They saw their complete lack of goodness, of righteousness, they cried and cried over it, they began to taste the goodness of it, and now they hunger for it, they thirst for it–they will go out of their  way to seek it out, because it's a craving they just can't get over!
They're blessed because their craving for righteousness–God's amazing spiritual blessings–will be filled. Not only will they get a taste of it, they will be completely full can't-take-another-amazing-bite-Thanksgiving-Dinner-satisfied. Not ever perfectly here–no, but in complete perfection someday!
Blessed are those, who seeing their own continued falling-on-their-face-flat-acts don't shout and point the finger when others do the same to them. Instead they recognize their own sin in a fellow sinner, they see the vast, un-payable amount of love and forgiveness God has given them. Because of this how can they not be merciful? Because they are emptied then filled, sorrowful yet comforted,  lowly joyfully, hungry then satisfied — now they can look at others offenses to them and feel empathy and kindness. They know that really they're looking in a mirror–it's their own fallen condition staring them back in the face through the eyes of another, and how can they not be merciful when it has been extended to them time and time and time again?
They're blessed, because mercy causes mercy to grow. They already have the amazing mercy of God, and now they extend it to others and they receive it all the more. Forgiveness is a beautiful cycle shown throughout scripture, and all of it is now theirs.
Blessed are those filled with God and comforted, humble yet joyful, who constantly crave His goodness, and then turn around and extend it to others graciously and undeservedly–these are the ones who are Pure in Heart.
They're blessed because the world is always looking for the ones who are doing, saying, and living all the "right things"—but only those who have come to grips with all of this in their innermost self will really see God!
Blessed are those who have found peace with God, peace with themselves, peace with the world. This most elusive thing that the world grasps at–they exude it. They are the peacemakers because they've found the "secret" of it, and now can share it with the rest.
They're blessed because they are the children of God. This peace that the world cannot understand, comprehend, or experience marks them as the heirs of God more than any other thing–His precious, chosen children.
Blessed are those who, not in spite of, but rather because of, all these things are persecuted, reviled, and accused falsely. Those who are stuffed full of their own way and pride, who are desperately insecure in their own self sufficiency, who know "everything" already and don't need anyone to tell them otherwise, who seek revenge in their wicked hearts; they cannot understand how different these children of God are. They hate them for being the joint-heirs with Christ and all these intangible qualities that they have, and they'll treat them horrifically as a result.
But yes, still indeed, the poor, mournful, hungry, meek, pure, peacemaking ones are blessed. Strange to call persecution, disgust, hate, and contempt blessing and saying they are to rejoice in them? No! Blessed because they know that they are living in God, they're now filled and satisfied in all the things they longed for. This shows more than anything that the Kingdom of God really is theirs–and that their rewards in Heaven will be great! They're in good company–remember that all the great prophets and those children of God before them who experienced the same things!
There you are…the no-fail formula to being truly, really, deeply Blessed by God. Are you brave enough to chew on it for yourself, to start this incredibly hard yet fulfilling journey? I hope so!