This shop has been compensated by Collective Bias, Inc. and its advertiser Irish Spring Signature products. All opinions are mine alone. #MySignatureMove #CollectiveBias
So my hubby is a hottie. He just is! One thing that I've always loved about him since we first met was how even as a teenager he always dressed super nice and was always super clean and amazing smelling *inhales deeply, aaahhhhhh!!!!*
Now, that's not to say he doesn't get stinky, I mean, he was in the military for crying out loud, and he still loves doing down and dirty projects with his dad in the shop or tackling things like building me a compost bin. He has discovered, however, how to get un-stinky in the most lovely of ways and how to get that good smelling man smell that I love so much back!
He is the kind of guy who discovered the wonders of a loofah and uses awesome man body wash, bar soap, *and* wears cologne to get that smell back and I love, love, love it! However, he's also really picky  a man of great tastes, and only will use Irish Spring for his bar soap.
So recently when I was at Walmart (yes, my usually weekly grocery trip) I noticed that in addition to the "classic" bars that have been in my life for the past 10 years with their fresh smell, they had an all new line of Irish Spring Signature products. I knew that hubby would love these, plus you all know I'm a sucker for a good deal, especially when it's easy, and that's when I found out about this:
Purchase one of the new Irish Spring Signature products and get $5 off a VUDU purchase! Take a picture of your receipt and then go to http://cbi.as/3boj to upload your receipt. Next step, enjoy watching!
Awesome, right?! The wheels started spinning in my head and kept on going! I would surprise hubby with the ALL the new products (I couldn't choose and bath and body products are things it's hard to ever have *too* many of!) to add to his "Cleaning Crew" and also organize his side of the bathroom as a sweet, "I love you, thanks for being a hottie" surprise!
In addition to being a super sharp dresser and smelling good he is also super organized, like me, but we've both been SO crazy since we moved in we just didn't have time to get things how we like them, so I knew it would be a surprise he'd love.
After I grabbed Irish Spring Signature Body Wash (3-in-1 and Hydrating) & 3-pack of Bar Soap (Hydrating and Exfoliating Scrub) I headed on over to the office supply aisles. I'd seen some ideas floating around on Pinterest that I couldn't wait to tweak and use for myself!
I just picked up a few black plastic supply bins and organizers, and a few plastic hooks and I was ready to go!
First I took the hooks and looping the basket onto them figured out where under the sink they'd best fit. Originally I was going to put them both on the doors, but since I got the large trays rather than the pencil ones it didn't work. Thankfully the hooks came with extra strips, so after a little trial and error I got them exactly where I needed them!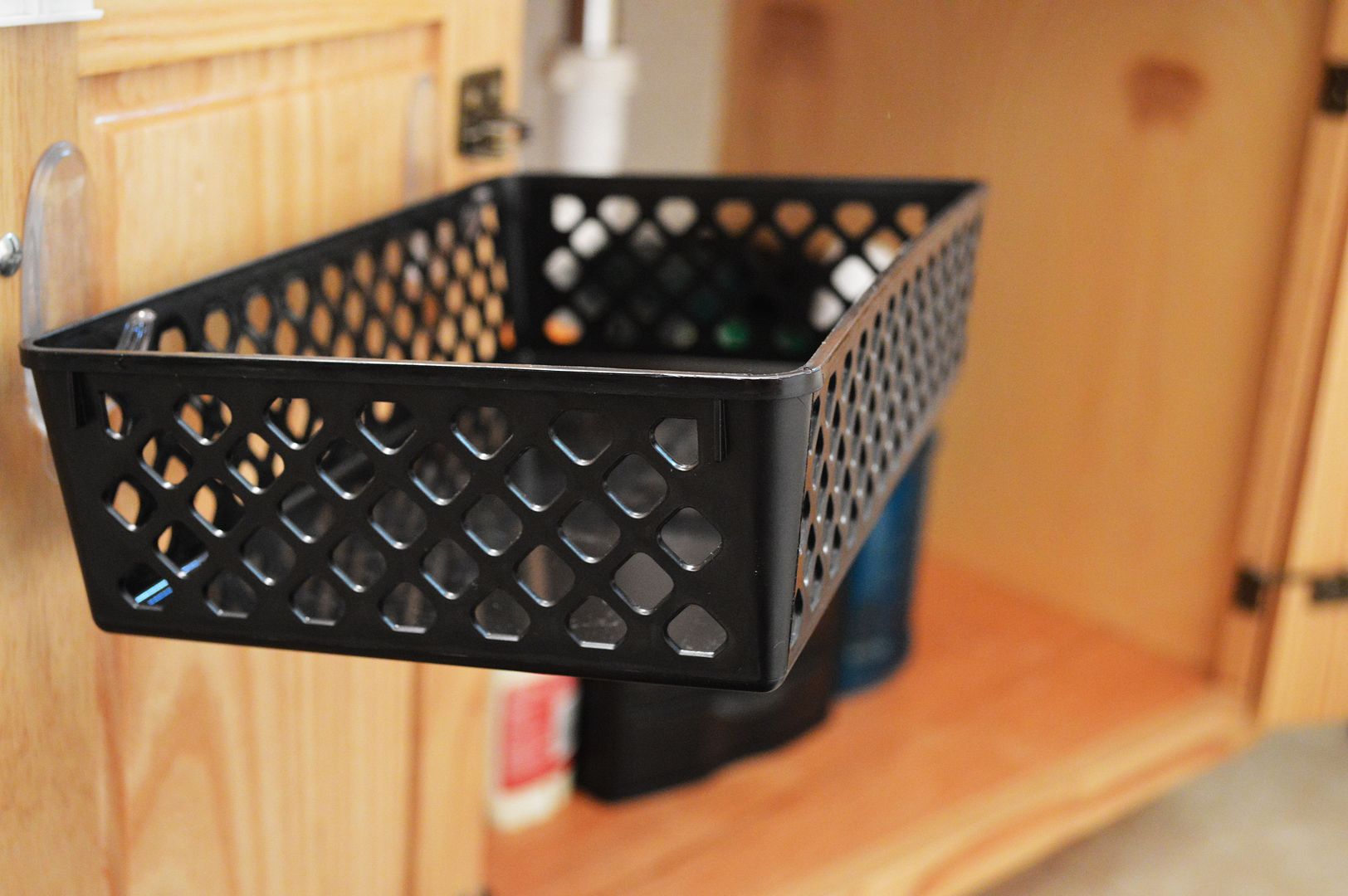 They ended up SO awesome that the "new guys" couldn't wait to jump on in!
See?! Told you! 😉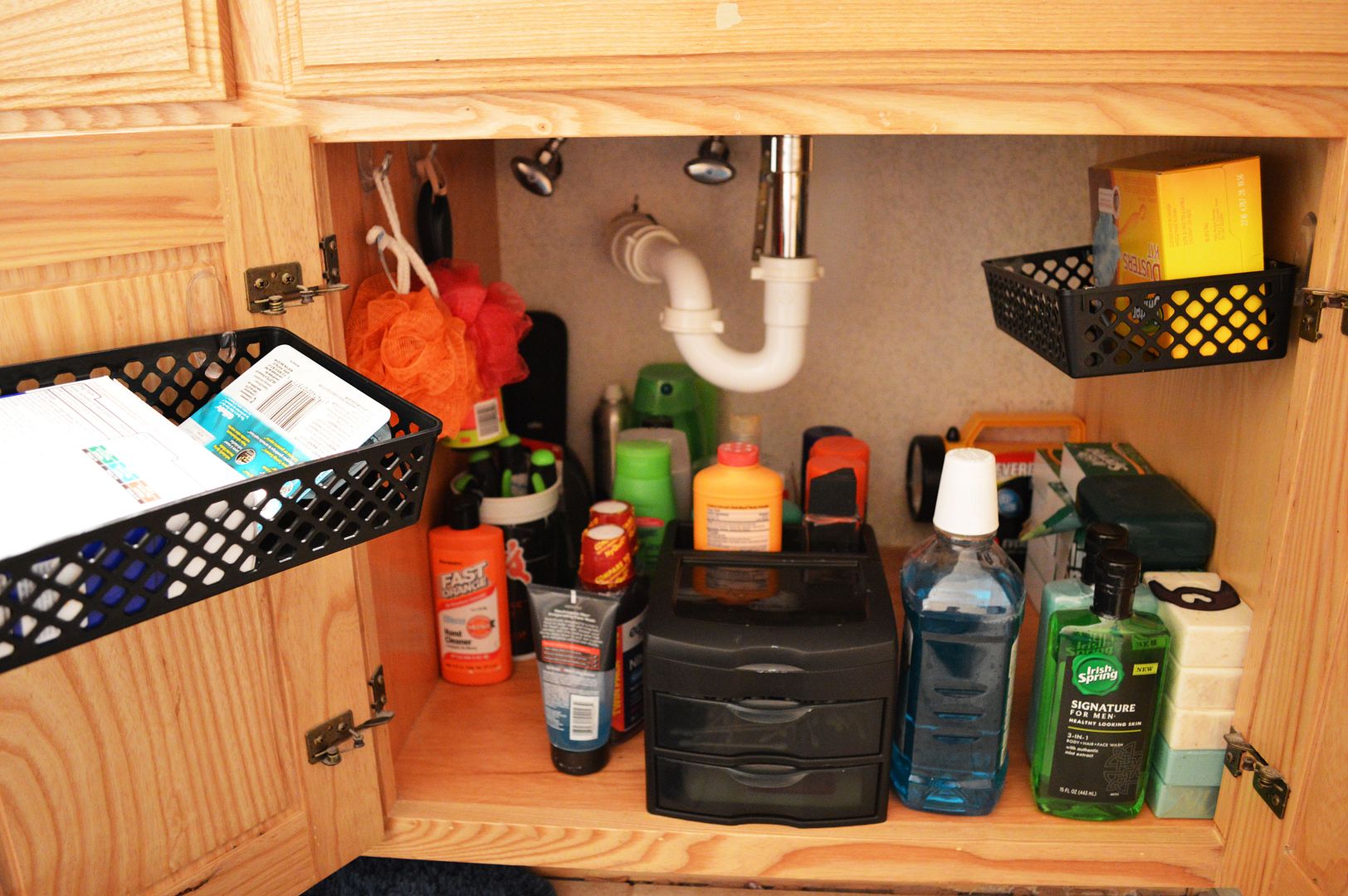 My organizing heart was so very happy by the results–and hubby was excited and pleased (along with laughing at me a little bit) just as I had hoped for!!!
Some of the special touches I added were this: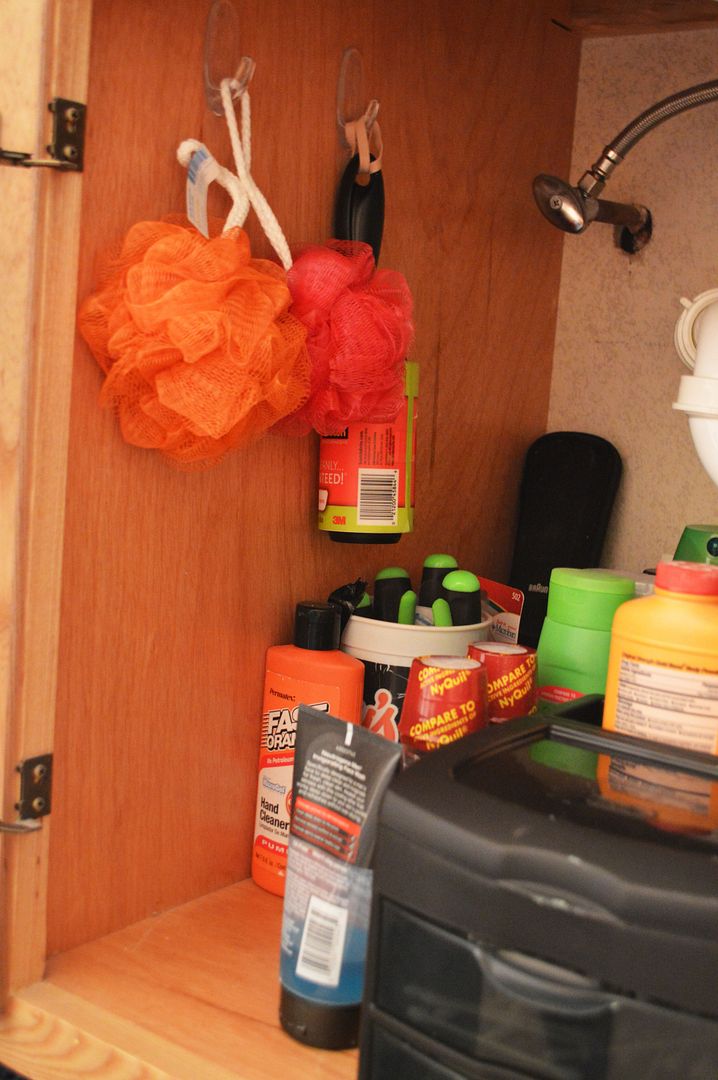 I added the two extra hooks on one side of the sink to hold the lint roller (told you he was a sharp dresser!) and his extra loofas! I also organized his little "spare tools" into a plastic cup from our favorite local BBQ joint–these are actually great to have a set of in the house as well as garage, and I've found that under the sink is handiest/most practical for them!
I used my new drawer set to organize Qtips, deodorant, and hand sanitizers.
And the whole right side is dedicated to Irish Spring! (as it should be)! I put the new amazing products front and center (the Exfoliating Scrub Soap smells seriously amazing) and tucked our still massive stockpile of "the good ol' stuff" behind! I love that the new bars are "man sized" — it seems like he always went through the originals *so* quickly!
So there's how I treated my hottie!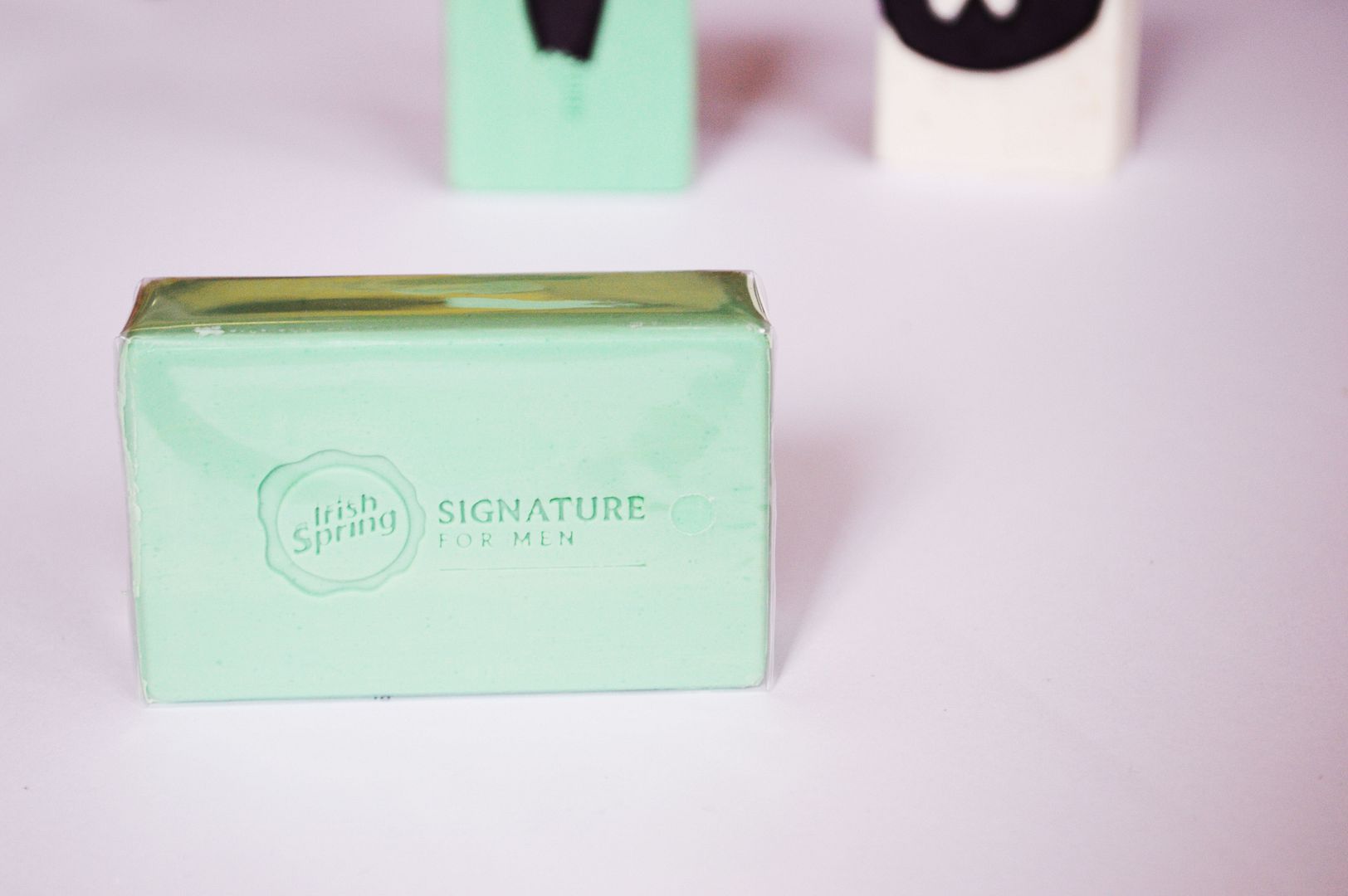 Every couple is different–so let me know, how would you surprise your hottie with these amazing new Irish Spring products?! Leave me a comment and inspire me!