This shop has been compensated by Collective Bias, Inc. and its advertiser. All opinions are mine alone. #GiftingAMemory #CollectiveBias
Not to toot my own horn…
(don't you just love it when statements start like that, you know the person is about to do whatever they claim they're not doing? But back to what I was saying)
I'm known as a pretty amazing gift giver! I usually shop year round for items that will be both perfect for the recipient and also be a great deal so I can give even more gifts. I've shared before that I organize this all on a Christmas Gift Budget Spreadsheet so I can make sure I'm totally organized and on top of my game!
It never fails, though, each year there is one person who I'm continually left scratching my head over what to get. The biggest problem? He happens to be the #1 guy in my life!
That's right, my sweet husband is always the very hardest person to buy gifts for hands down, every year. Maybe it's the fact that I know him so well, or maybe it's the fact I know he usually just purchases for himself things that he wants, but whatever the reason even when everyone else has several items listed on the spreadsheet the place by his name his remains blank.
This year I've already come up with a few "non-wrapped" presents to gift him that I'll share soon, but even with those ideas I still needed something for him under the Christmas tree. I've been puzzling over this until I was in CVS the other day and saw this awesome fragrance display right by the counter.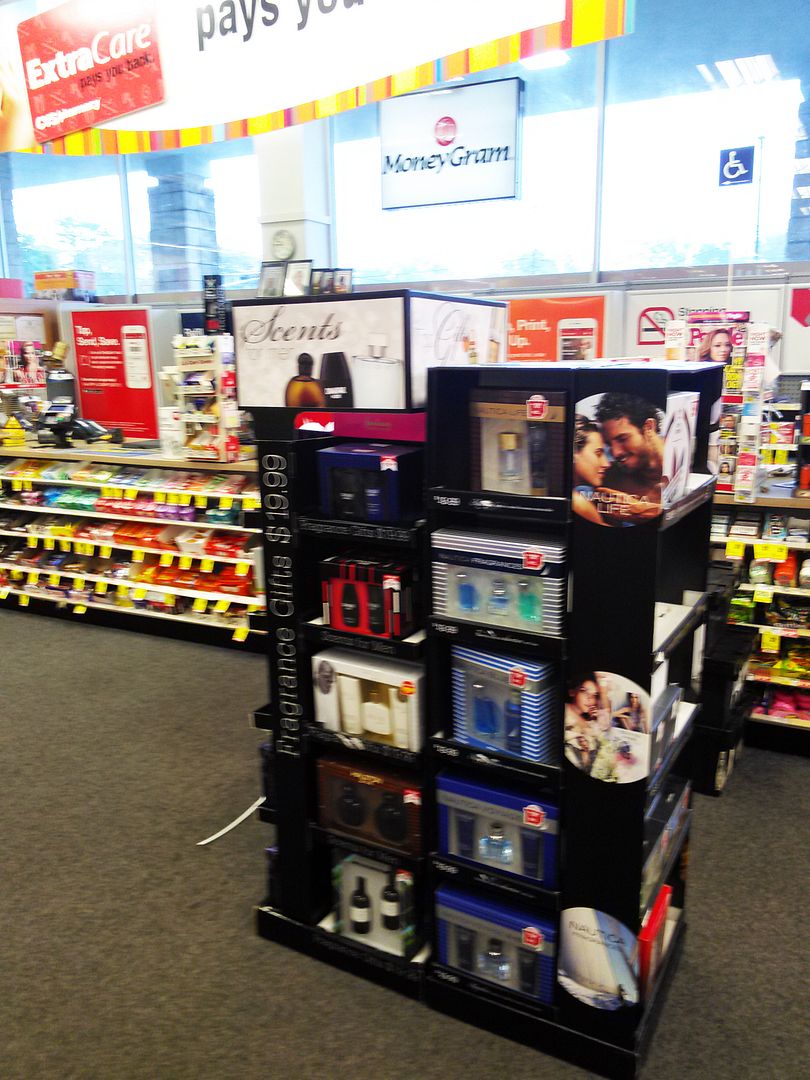 I'm a sucker for a good fragrance and it's one of the things on my Christmas wish list each year. I wear it each day and I just love how it makes me feel! Thankfully my husband also loves a good fragrance and so when I saw the Nautica Gift Set with 3 different scents in it I knew immediately what he would be getting for Christmas this year! He's the kind of guy who loves to wear fragrance but quickly wants to wear a new one.  I've learned the best fragrance gifts for him are the sets that include the smaller sized bottles with several different variations of a great fragrance, and this set with Nautica Blue, Voyage, and Classic was perfect!
One of the amazing things about scent is that it is our most powerful scent for triggering memories. I've always thought it was crazy how catching a whiff of what Bob is wearing can send me back to when we were dating or our time as newlyweds together. He's mentioned the same thing about certain fragrances I wear as well.
It may be silly, but I love to select my fragrance for the day depending on my mood, what will be happening that day, and even what I'm wearing! Because of this, I try to select fragrance I know my recipient will not only love for the scent but also that have a great meaning behind them. Of course, I would immediately equate the Nautica brand with my veteran Coast Guard husband, the themes of adventure and freshness fit his personality perfectly!
The Perfect Gift For Him
The price was amazing too! Being a brand that you can also purchase at the high-end stores, I was thrilled to get such a great deal on the Nautica gift set. Even better?? Right now there is an amazing $4 off coupon for COTY brand gift sets like the one I purchased. It's also good for other great fragrance gift sets like Beyoncé, Katy Perry, Stetson, and Vera Wang, so you're sure to find a gift for several people on your list this year. This is an easy, budget-friendly, and stress-free way to be an amazing gift giver, like me! 😉
Who is the most difficult person to buy for on your list and what great gift ideas do you have for them? Leave me a comment and let me know! For more great gifting ideas check out all the amazing ideas here!