This shop has been compensated by Collective Bias, Inc. and its advertiser. All opinions are mine alone. #InspireBigDreams #DreamBigPrincess #CollectiveBias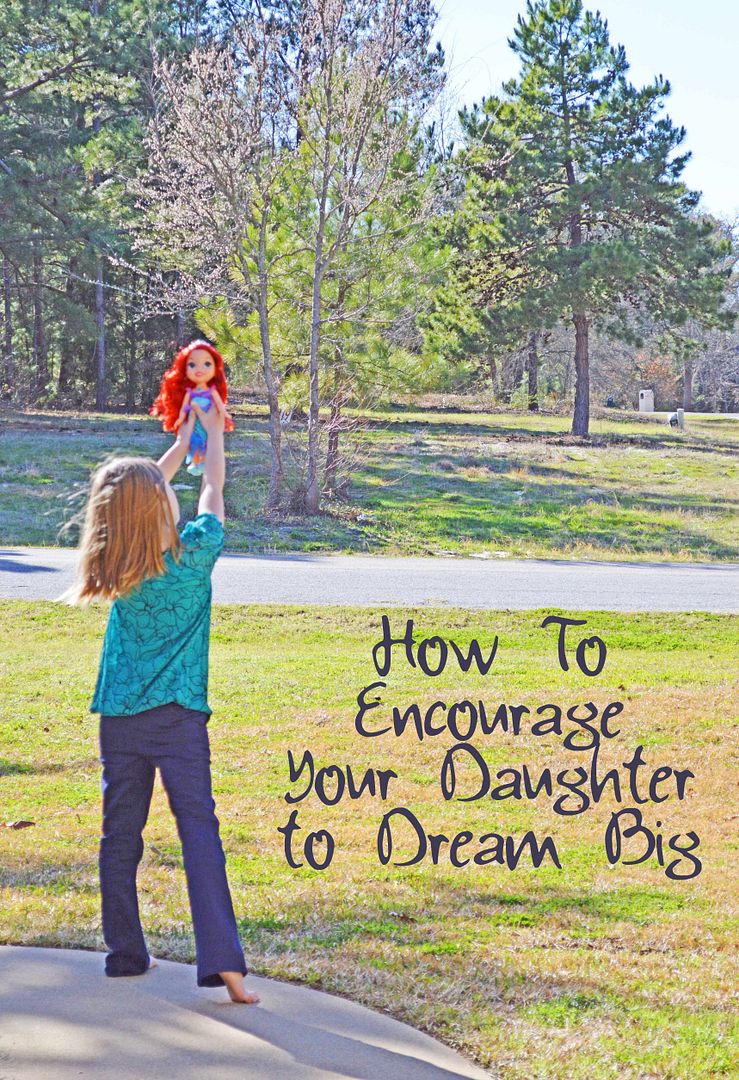 Writing, photography, and a love of art courses through our blood.
My Grandma has written for the Green River Star Newspaper as a journalist for as long as I can remember, and just recently has scaled back her involvement with them.
My Mom was a journalist until I was born, and now that all her children are out of the house she's returned just this year to journalism full time for the Rocket Miner Newspaper.
I've spent my entire life writing in one way or another, and now have the most amazing job I could have ever imagined as a professional blogger.
So it was no surprise, but delighted my heart, when I saw Amber with a furiously scribbling pen and a deeply intense look on her face earlier this school year. Later that day she proudly came and showed me her story "The Cat" written and illustrated by Amber Elliott. One of her main presents for Christmas this year was a kid camera, and right now her aspiration is to be a Travel Blogger when she grows up. She loves exploring the world and new places, along with having a big heart that adores helping others, and because of that Ariel and Belle are currently her favorite Disney Princess inspirations!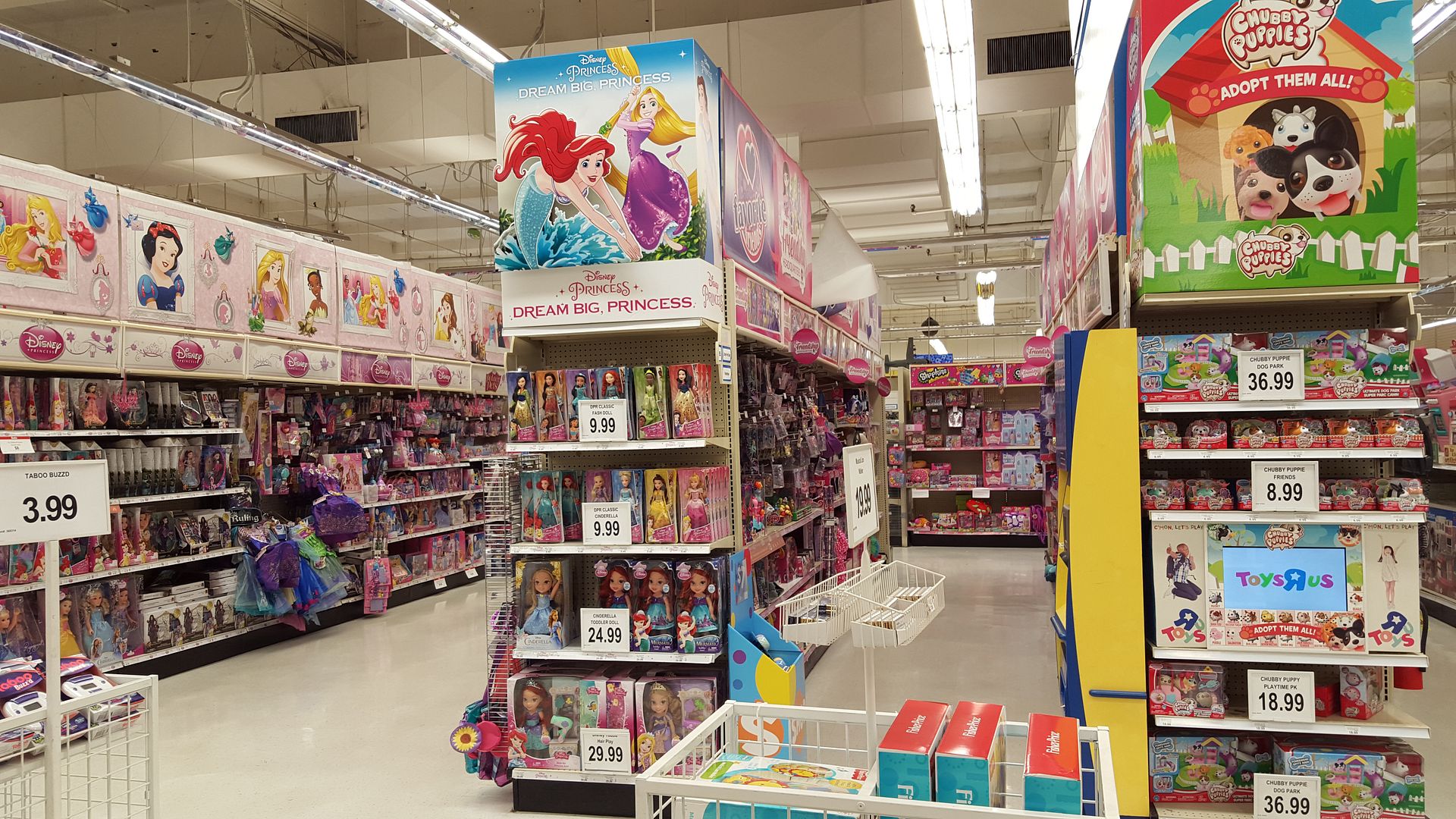 As a fun surprise and late birthday present, I decided to get her some fun, new Disney Princess toys from Toys "R" Us with the help of my favorite network. By this time it should be no surprise to you how much we love Disney, and especially their princess story lines, in this family! I mean, Amber's nursery theme was princess and she still sleeps every night under a twin sized fleece blanket that all of us writers in the family made for her that has Belle, Aurora, Snow White, and Cinderella on it.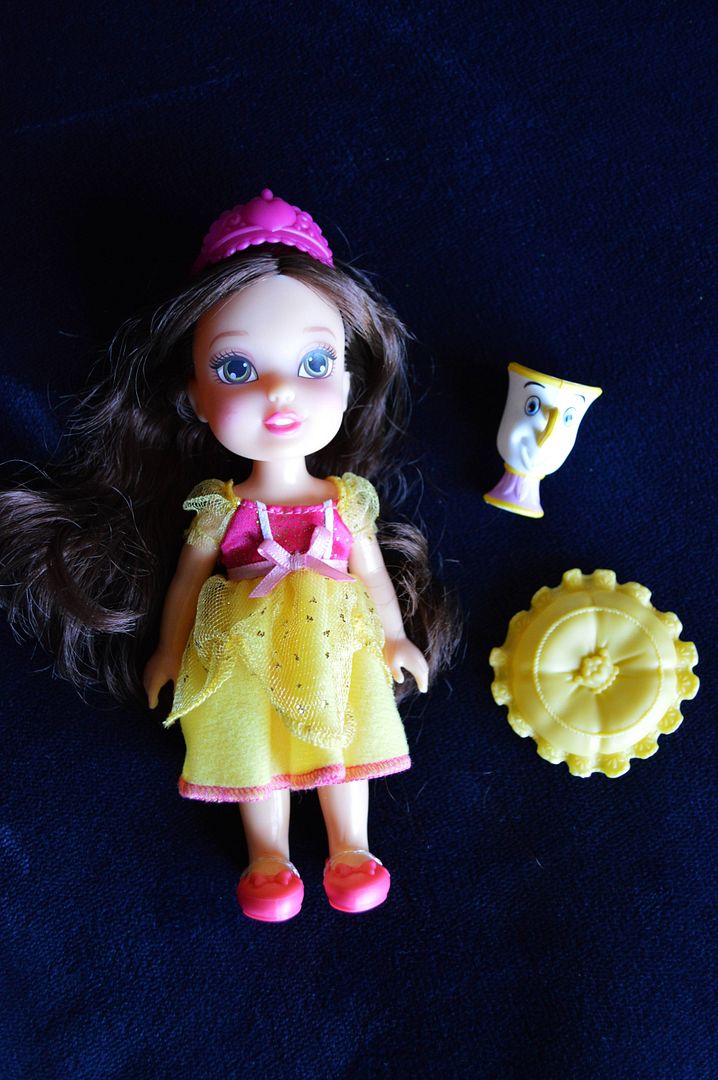 To this day, I will put down my work and snuggle up with the kids just to watch Sleeping Beauty and Tangled (my two favorites)! I've already shared with you Life Lessons From Classic Disney Princess Movies that You Need to Teach Your Daughter. Another thing I love about Disney Princesses is how they chase after their dreams, and now that Amber is a few years older than the last post I shared, and starting to Dream Big about her future, this is something I'm encouraging as much as I can in her life and as we watch the movies!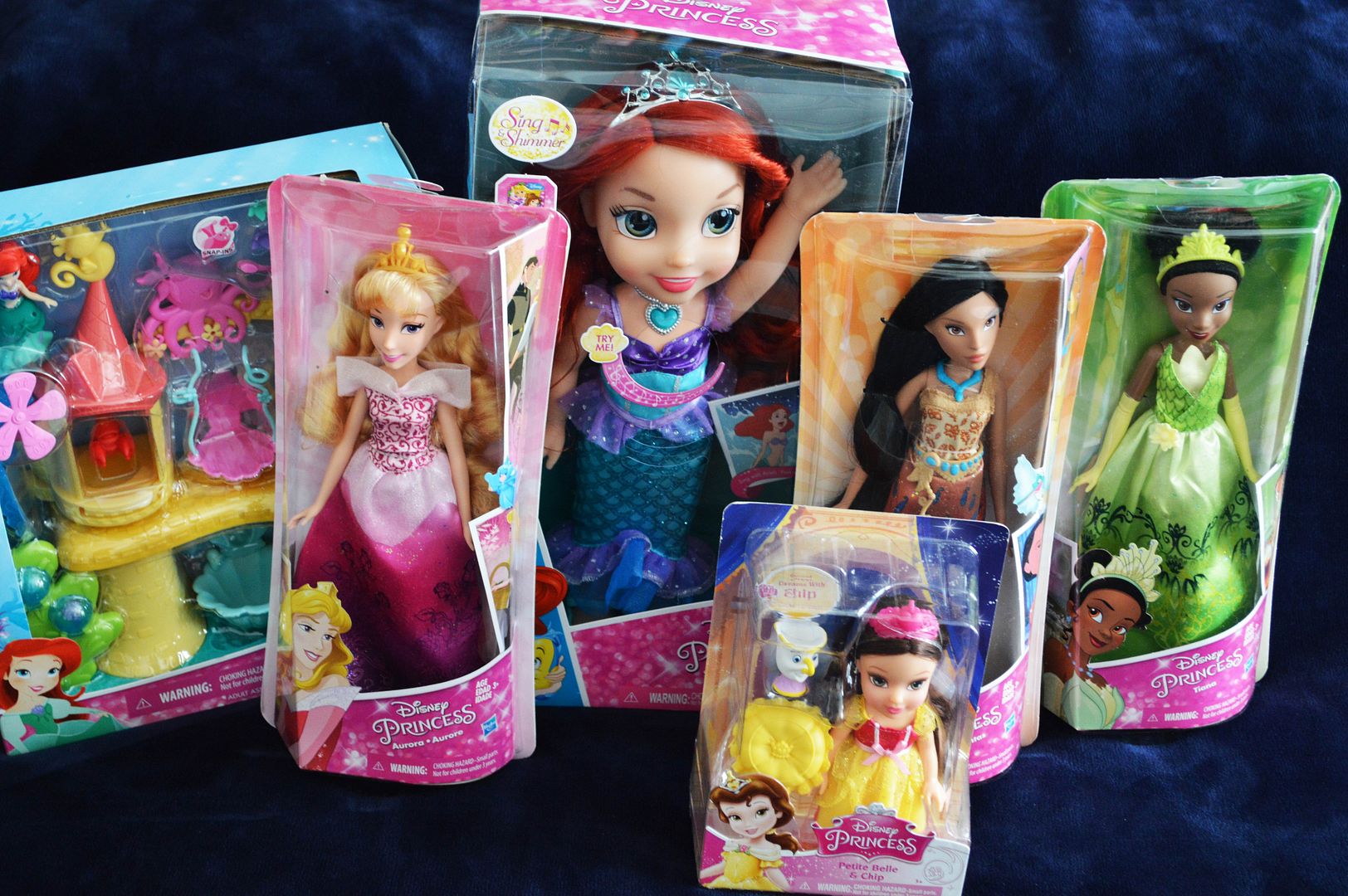 We've always loved going into Toys "R" Us–even as an adult I feel like I'm stepping into a fairyland with all the amazing aisles filled with nothing but FUN! I had a blast looking through the latest Disney Princess options, and each store, including ours, has a whole aisle dedicated to Disney princess magic with exclusive options available only there. I especially loved the beautiful Disney Princess Royal Shimmer Dolls. I'm currently crushing on ombre and glitter, so the fact that all 11 Disney princesses are available with a gown in their signature color with ombre and glitter is probably why I loved them so much. Each Shimmer Doll has movie inspired features so it's easy for your daughter to recognize her favorite, and they even come with removable shoes. Some stores also have an amazing end cap highlighting these dolls like the one you see above, so be sure to be on the look out for that!
Amber's reaction to the amazing assortment of new Disney Princess toys?!
I wish I would have gotten a video of her first seeing them, but I love this photo completely captures her excitement and delight!
Although she loved all of the toys, as I mentioned she's especially loved Ariel lately, and she immediately fell in love with the Sing & Shimmer with Princess Ariel! Ariel sings "Part of Your World" when you press her jeweled necklace, and Amber immediately started dancing to it. In fact, she begged me to let her go dance and play with Ariel in our front yard, and of course, I did!
As soon as she got back in we opened up the Little Kingdom Ariel's Sea Castle. Both of the kids had a lot of fun with it since they're both in love with "little" toys right now and so the 3 inches tall Ariel with all her fun snap-ins plus the mini-Sebastian were so much fun! I love that it's compatible with all the other items in the Little Kingdom line, including dolls of other princesses, so it'll be easy to expand and add new "friends" for Ariel to play with!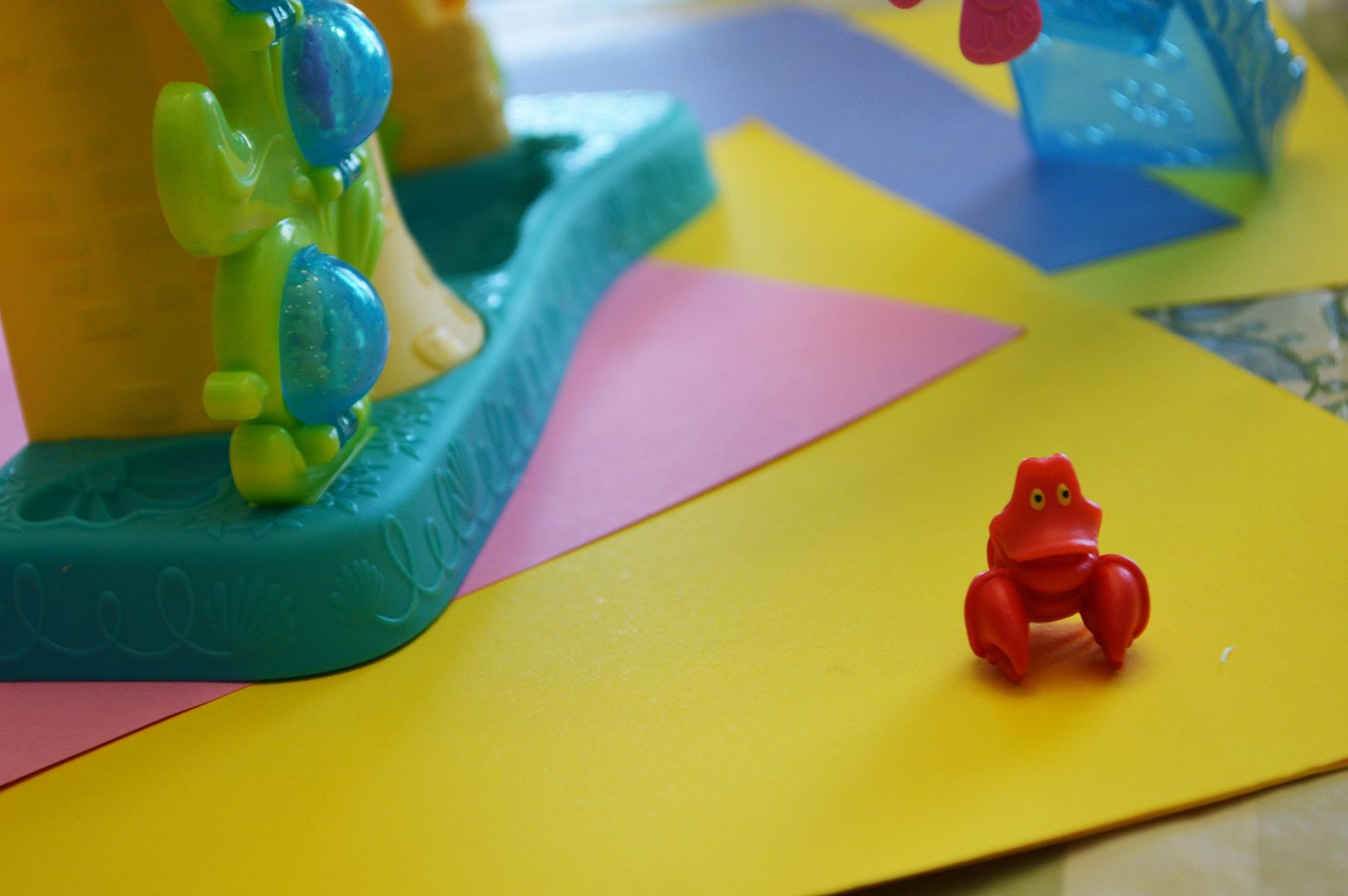 After Amber got inspired by play we talked together about how she could use her new Disney toys and their princess stories to inspire her goals for when she grows up. I told her that she could write and illustrate a story, and then I would publish it right here on my blog, her first published work! She was thrilled and got right to work!
If your daughter, or any princess in your life, is also an aspiring author/blogger/artist here is how you can encourage that dream!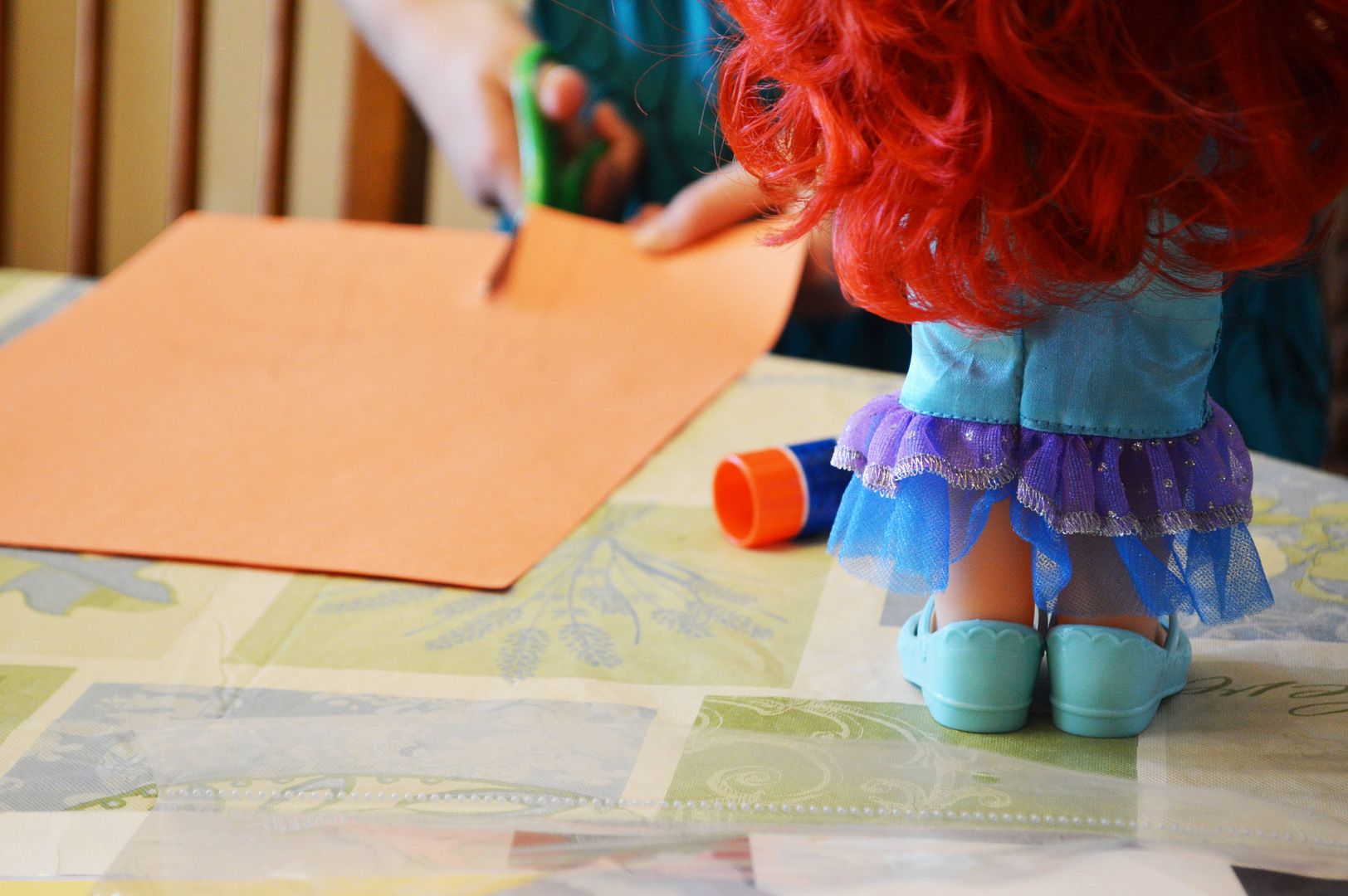 Materials Needed
Disney Princess toys for inspiration
Construction/Scrapbook Paper
Markers/Pens/Pencils
Glitter
Glue
Scratch Paper for the Rough Draft
Polished paper or a computer for final draft
Camera or Scanner (to document the process and take photos of the final artwork)
Step One–Basic Story Skills:
Go over the basics of story writing if your daughter hasn't been taught it in school yet. Amber's class just recently went over story development, so when we started to talk about story basics she told me all about starting off the story with a "hook sentence", creating a rough draft, and about needing a problem and a solution, so we were good to go.
Step Two–Brainstorm Session:
We used Amber's playtime to have her brainstorm, but if your daughter is a little stuck sit down together and talk through all the different ideas she has for her story. Who will be the characters, what problem will there be?
Step Three–The Rough Draft:
I'd encourage having your daughter do her rough draft on paper. We live in a digital world but there is something about pen and paper that cannot be replaced. Putting a story on paper makes it feel more real, plus it makes them practice their spelling and penmanship skills.
Amber's a lot like me and while she likes to do a basic brainstorm, she really loves to watch the story develop as she writes. For this story, she knew her characters, and her problem, but how it would be solved she hadn't decided until she was writing. She got stuck for awhile and was a little frustrated. You might be tempted to jump in and help by providing ideas for the story, but don't! This is her creation and working through bumps in the creative process is a part of every person's career. I gave her gentle open-ended questions to help get her wheels turning, and it was amazing to see her face literally light up when her "light bulb" moment hit and she started furiously writing again.
Step Four–Illustrations/Art/Photography:
At first, I thought I'd have Amber stage and take photos to go along with her tale, but after she wrote her story she decided she wanted to illustrate a "Cover" for her story, instead. Again, this is all about encouraging your princess and HER dreams and goals for her life, so allow her to do whatever she wants in the creative process! I gave her a big variety of materials and resources to use and just sat back and enjoyed the magic. For this, she also created a rough draft and then a final copy! I think they both turned out amazing.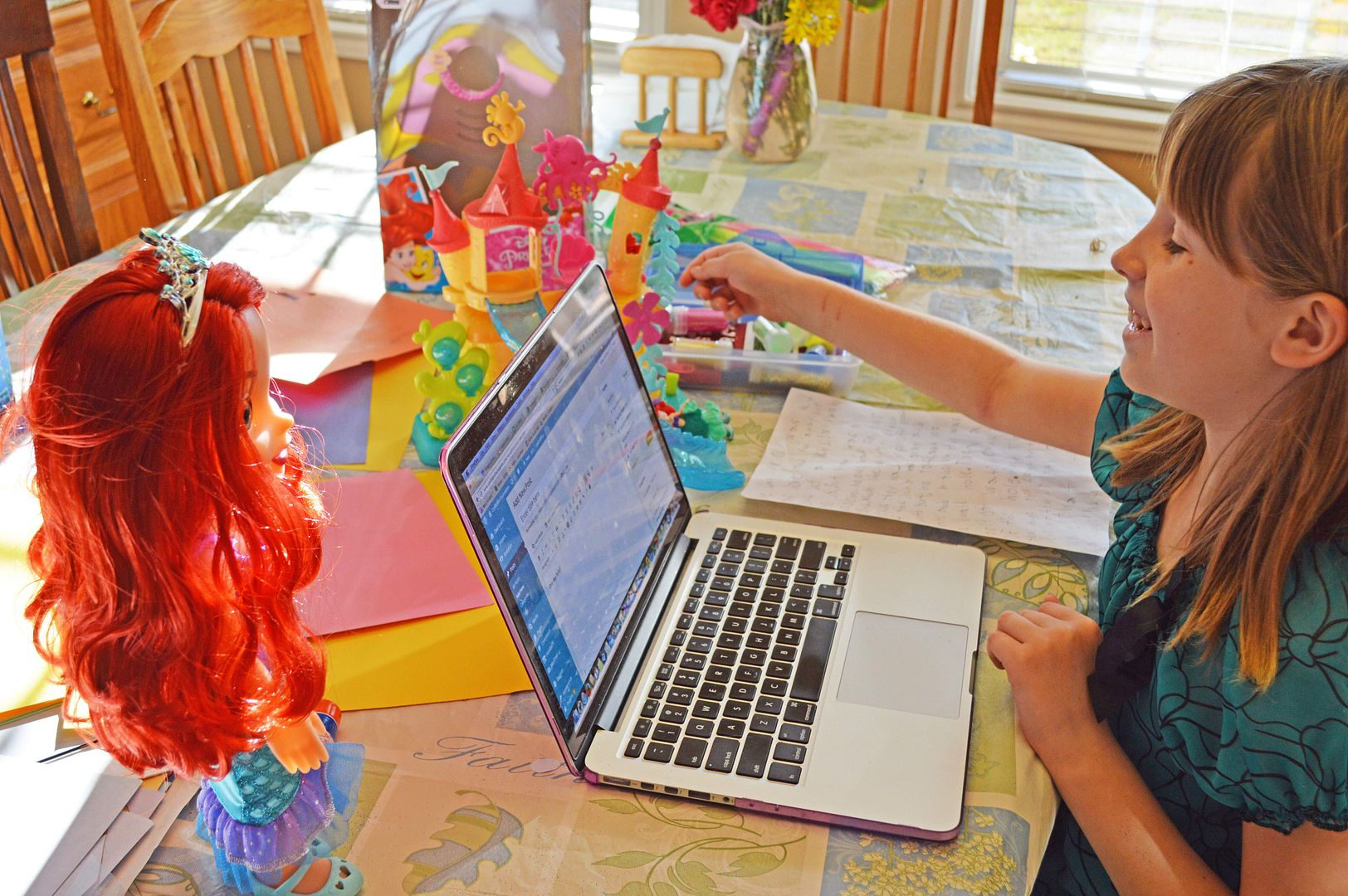 Step Five–Final Draft:
Just as much as I like the rough draft being on paper, I think it's also vital that we teach our kids how to thrive in our digital world. Amber's school does a lot of work on iPads and computers, and I try to also adopt the half and half style at home as well. For her final draft, I showed her how to use spell check (my best friend) and the proper way to do capitals and sentences right here in my composition part in WordPress! She thought it was so much fun!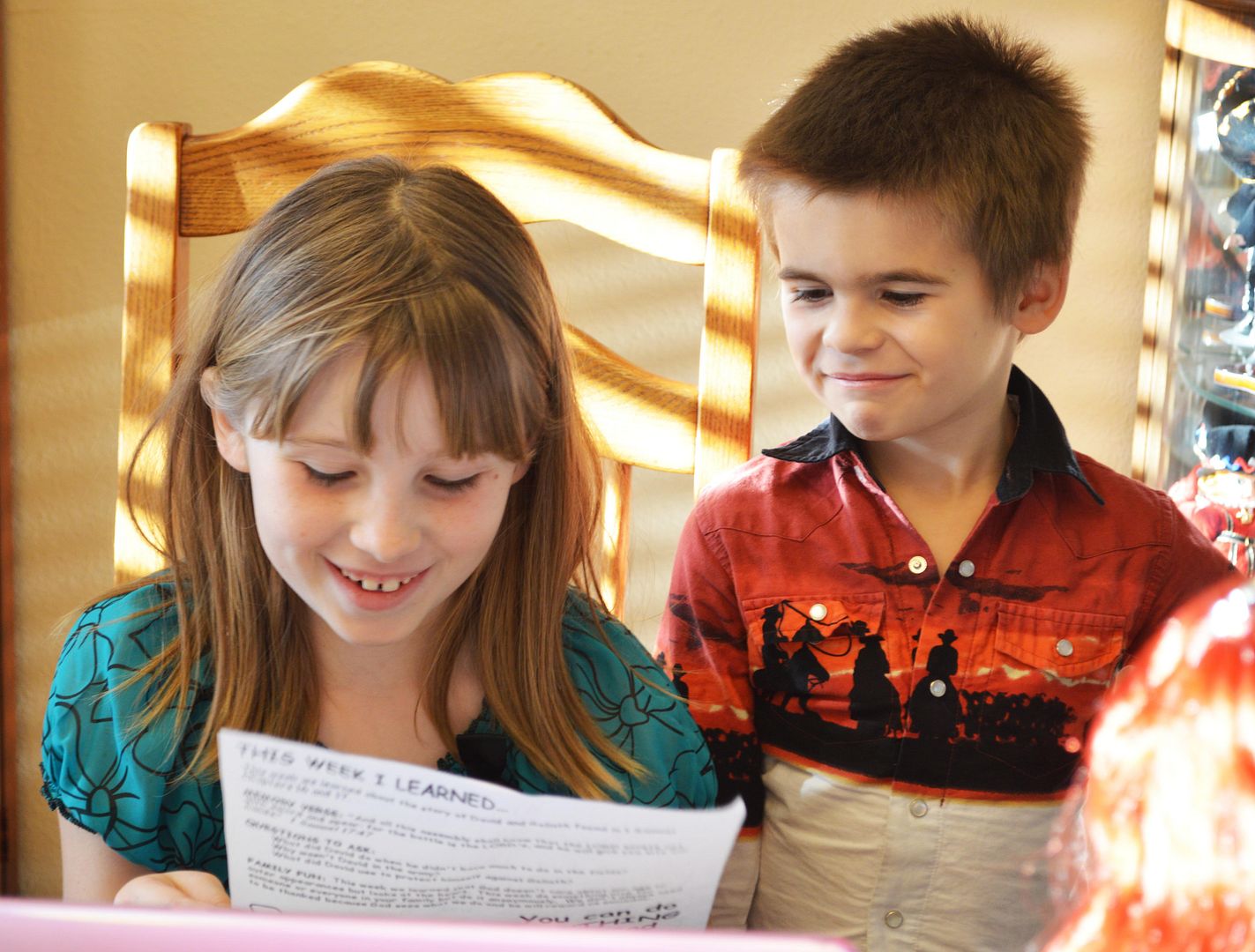 Step Six–Share:
The joy of creating is sharing it with others! Whether you have your girl share with her younger brother, your extended family, or even the wide internet world, make sure you give her a chance to shine! At this age, I believe in lots of encouragement, and gentle help. Tyler loved hearing Amber's clever story, and here it is for all of you to enjoy now, too!
Ariel's Adventure
One day Ariel was at the shore. Far away she could see a island. She swam to it. But there was a problem. No one was on the island. When she visited other islands they had people. The ground of this island was gray and smooth, but no rocks and no plants, and in the middle was a small hole. Then a burst of water came out of the hole, and then two huge eyes came out of the water. It was a whale! That is definitely a whale!
THE END!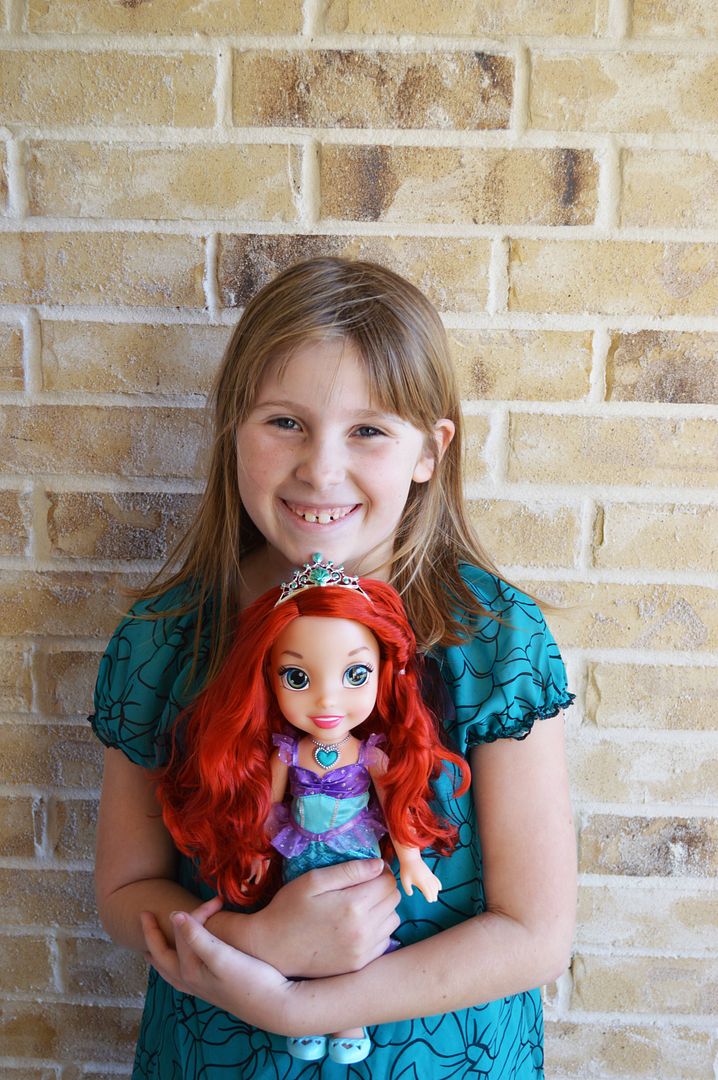 How will you inspire your princess to Dream Big? Watch this heartwarming video for more ideas along with reading this awesome post by By Jennifer Lee (Academy Award®-winning director/writer of "Frozen," writer, "Wreck-It Ralph"), and then leave me a comment letting me know, I'm always looking for more ideas!