Although I can hardly believe it Easter is just right around the corner! Our family always enjoys Easter–as you've seen through our family Easter Sunday updates from 2009, 2010, 2011, 2012, and 2013 (can you believe this blog is almost 6 years old?! Wow!)
I've also shared my best Easter Basket Ideas with you, and the Best Easter Books & DVDs. 
So today I decided it would be great to share a few
Easy Easter Centerpiece ideas!
The first look I wanted to go for was a classic, elegant "Better Homes and Garden" kind of a feel. I love how it turned out! Here are the items I used to create this Elegant Mixed Metals Easter Centerpiece
Light Gold Ribbon
Silver Ribbon
3 Eggs ( You can do this to Hardboiled Eggs and just set them out temporarily or you can use hollowed out eggs)
Empty Jar with Lid (I just used a candle jar that I washed out when it was all used up!)
To create this look I just doodle on two of the eggs (you could also doodle on the third but since you couldn't really see it in my jar I just left it white). I chose silver polka dots and golden ribbon but any simple, graphic shapes would work perfectly for this look! Putting it all together is super simple–just layer the ribbon in the jar, set an egg on it, layer the ribbon again, and repeat. Finish it off by tying a piece of ribbon around the top of the jar–I left my knotted w/ no bow to keep with the elegant look.
For my second centerpiece idea I wanted something a little more in keeping with the whimsical/fun aspect of the holiday–so I did a twist on the tradition Easter Basket and brightly colored eggs!
Classic Easter Basket Centerpiece
For this centerpiece you need
Basket
Many different lengths and color of ribbon
Eggs ( You can do this to Hard-boiled Eggs and just set them out temporarily or you can use hollowed out eggs)
First you'll want to set up your basket, I fell in love with this basket that looks like a traditional child's Easter Basket but the woven browns in it give it a more grown-up flare. If your basket is deep you'll want to add some "filler" in at the bottom so that the eggs can actually be seen, a few neutral looking dish towels worked perfectly for this
Now take all your different ribbons and twirl/weave/tangle them together. You want it a little messy and haphazard. The point is to get it so that on the top you see a bit of every color
Next you'll want to decorate your eggs. I used the combination of Neon Sharpies and the Premium Sharpie Pen to create some fun doodled eggs. I mixed it up between picture doodles and more fun, graphic and shapes based egg art.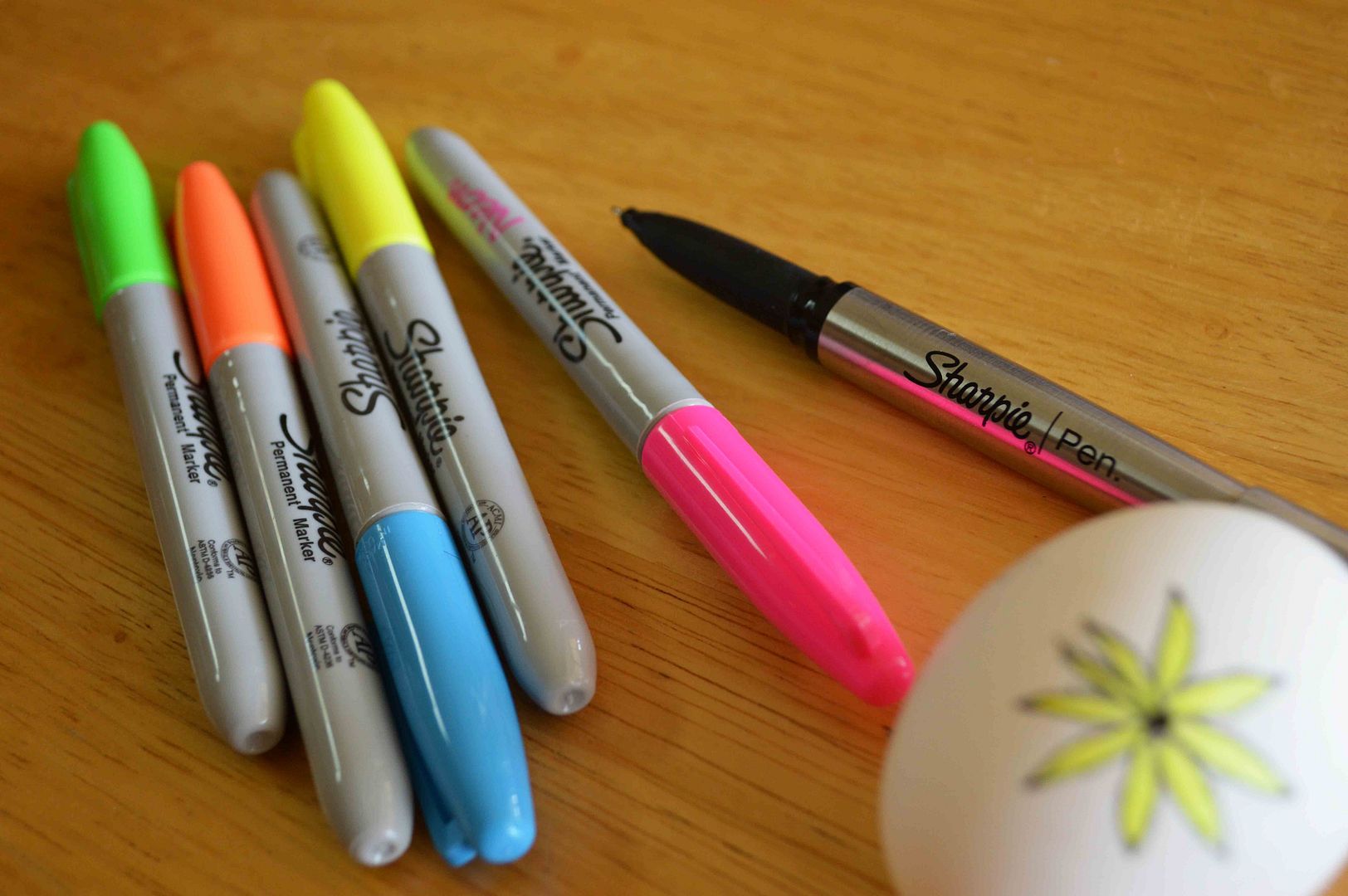 One your eggs are appropriately adorable place them in your basket and Ta Da! This would even be a great project to have your children work with you on!
A Big Thanks to Shoplet for providing the Office Supplies used in these centerpieces! They are a great place to purchase everything from Promotional Products and Promotional shirts to Office Stationary!
Do you have any great Easy Easter Centerpiece Ideas? Let me know in the comments!