This shop has been compensated by Collective Bias, Inc. and its advertiser.  All opinions are mine alone.  #MyLiteracyStory #DGMyStoryEntry #CollectiveBias
We all know reading is important. If you can read, you can learn about the things that fascinate you and experience far-off places you long to visit and see life through the eyes of someone who is different from you, all within the pages of a book.  As a homeschooling mom, every day of my week centers around reading with my children and encouraging them to appreciate and love reading.  For the last 5 years we've been using the Charlotte Mason method for our home school, which focuses mainly on learning through reading great literature.  All those hours we've spent immersed in great books have shaped us so much as individuals and as a family.  My kids haven't just learned history and science and grammar.  They've learned empathy and compassion and courage, and that "normal" doesn't mean "exactly like me." Reading has a way of changing us for the better, and it's a joy that everyone should be able to experience.
That's why I'm so excited to share with you about the Dollar General Literacy Foundation and how they're making the dream of reading a reality for so many people. Since it began, the Foundation has awarded more than $140 million to nonprofit organizations and schools that have helped over 9 million people improve their literacy and education. That's a lot of good!  You can learn more about this literacy initiative and also enter the #DGMyStory sweepstakes to win a $50 Dollar General gift card (nice!) by clicking here and sharing your own personal literacy story with the hashtag #DGMyStoryEntry.
And now I can support a cause that's really important to me by buying the cereals my family loves anyway, because Kellogg's® is a proud sponsor of the Dollar General Literacy Foundation! Head over to your local Dollar General to pick up some Kellogg's cereals. I found several varieties on an end cap in the food section and grabbed a few because we really like our cereal around here.
This initiative is a great example of the fact that every day, Kellogg employees work together to fulfill their vision of enriching and delighting the world through foods and brands that matter.   Hover over the image below to be a part of this great initiative and start conveniently shopping right now for Kellogg's timeless cereals, including Rice Krispies®, Froot Loops®, Frosted Flakes®, and my family's favorite, Frosted Mini-Wheats®!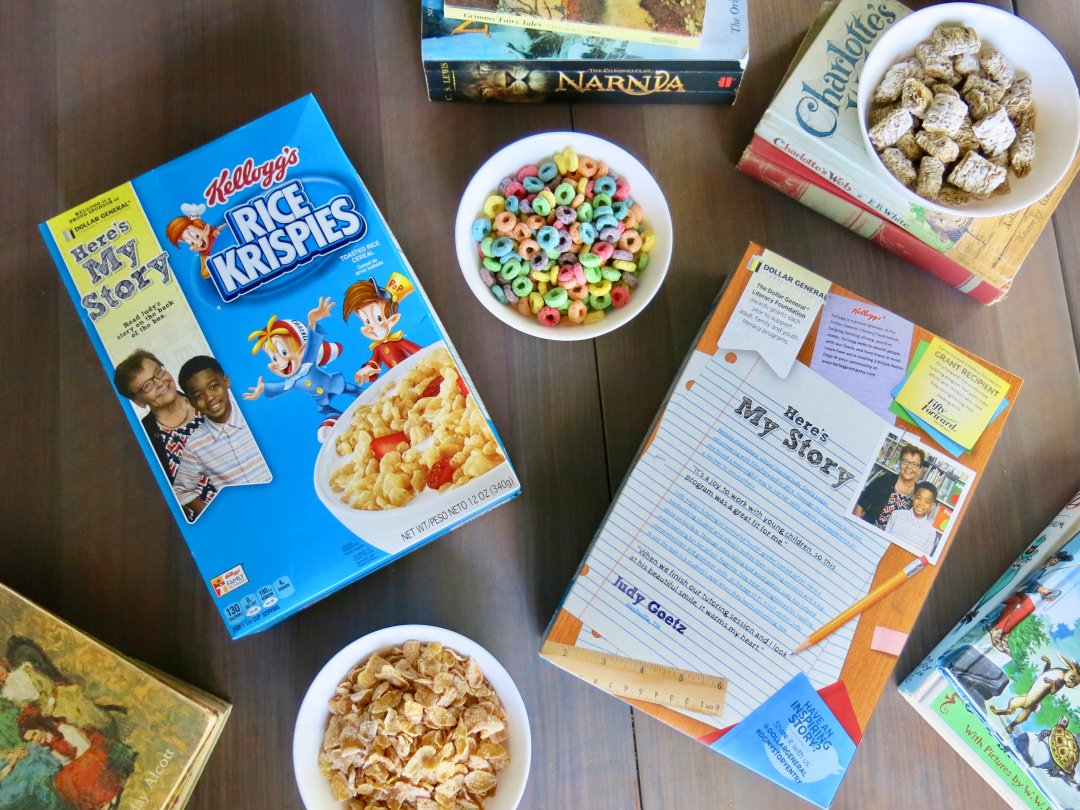 Check out the literacy stories featured on select Kellogg's cereal boxes and be inspired by the encouraging stories people have shared.  We've all been on some sort of journey that relates to reading, and sharing our stories with each other has a way of connecting us.
Each of my children has unique strengths, interests, struggles, and abilities, so it makes sense that each one would learn to read in a different way and at a different pace.   Today I'm going to share about my experiences in teaching three very different kids to read and how we have all grown as a result of reading.
Let me introduce you to my 10-year-old.  Sweet, helpful, conscientious, thoughtful…a typical firstborn child.  Teaching her to read should have been a joy.  She was eager to please and willing to learn anything I wanted to teach her.  Unfortunately for her, we had friends whose 3-year-old was doing a reading program and already knew more than my almost-kindergartener.  My daughter could recognize letters and knew many of the sounds (which, in hindsight, was absolutely fine), but comparison had me in its clutches and in my mind we were suddenly way behind.  I got the same online program that our friends were using and she started official reading lessons.  While my daughter caught on quickly and was soon able to read short words, it wasn't a joy for either of us.  She didn't love reading, and that broke my literature-loving heart.
So I did some serious soul searching and realized I was burdening both of us with an unspoken pressure to measure up to a ridiculous and unnecessary standard.  Did I want her to learn to read early just to keep up with someone?   No! I wanted her to learn to read in a way that made reading enjoyable.  So I took the pressure off and went back to the things that make reading fun–books!  I started simply reading lots of books to her again for the sheer pleasure of it.  Reading became fun again. When she started kindergarten and it was time to pick up reading lessons again, it was a breeze.  This time I had the ultimate goal in sight–cultivating a love of reading.  We tried some traditional methods, like flash cards and early readers, and some hands-on activities using things like Easter eggs and popsicle sticks.  But no matter what approach I used this time, her reading improved rapidly because now there was no pressure and she could learn for the joy of it!
Then came my son.  Energetic, creative, stubborn, wild and wiggly…he didn't have the time or inclination to sit and learn anything in the "normal" way.  Luckily I had learned my lesson already and was determined not to make learning to read a chore for him.  So I spent hours just reading books to him and my girls.  When I read biographies or mythology or poetry to his older sister for her lessons, he sat at our feet building creations with Legos.  He seemed completely engrossed in what he was doing, but he was quietly listening to every word.  He would exclaim over a surprising turn of events in the story or ask a question about why the characters did a certain thing and I realized he was really interested in hearing these stories.  And as he sat there playing with his favorite toys, he was unwittingly learning.  His vocabulary grew, his grasp of language improved, and his love for literature blossomed.
This composed the entirety of his kindergarten reading "curriculum."  The next year I wanted him to really start reading so we started working on some phonics and sight words.  He didn't enjoy this at all, so we took it REALLY slowly and only spent a few minutes a day on it.  He couldn't handle more than about 5 minutes at a time and would melt down if I tried to go any longer.  (We've since discovered that he struggles with anxiety and ADHD, making traditional learning incredibly overwhelming and frustrating for him.)  I got discouraged and started to wonder if he would ever learn to read at all.  But I was determined to let him learn at his own pace and in a way that would foster a love of reading.  So I just kept reading lots of books aloud, and he kept listening.  We also found some audiobooks at the library, which we put on to help him settle down at night and fall asleep.  He loved these so much that he started listening to audiobooks anytime he was in his room building with Legos (yep, it's still his favorite pasttime.)  He was being exposed to hours of literature every day and couldn't seem to get enough of it.  I was tempted so many times to push him to catch up to where I thought a typical first-grader should be, but I reminded myself over and over to just let him love literature until he was ready to read it.
Now he is in 2nd grade and he just read his first chapter book, which he finished in two days.  On his own.  With no prompting.  I almost cried.  Only a few months ago, I could hardly get him to read a few sentences without becoming overwhelmed.  Occasionally he gets stuck on a word, but his vocabulary is so extensive from all those books he's been soaking up for the last few years that he can almost always figure out what something says without help.
After these two polar opposite experiences with teaching my first two kids to read, I wasn't sure what to expect from my youngest.  Fun-loving, bright, chatty, intelligent, cuddly, compassionate…this little 4-year-old is very much her own person.  I was expecting to start teaching her to read when she starts kindergarten next year.   Boy, was I wrong!  Right around her 4th birthday she started asking me to teach her to read.
We were part of a home school co-op and she was in the kindergarten class for lack of a better option.  We really joined the co-op for the sake of her big sister and brother, and she was pretty much just along for the ride (or so I thought).   I honestly didn't expect her to learn much academically because she was only 3.  She quietly listened every Friday as her teacher introduced a new letter, and one day it just clicked for her that each letter makes a sound.  After that, she wanted to read her letter cards every day, so we read those five cards over and over, and the next week she got a new one, and then came cards with two or three letters on them…and still she couldn't get enough.
I created some hands-on activities to help her recognize upper-and lower-case letters and practice letter sounds and even make words from loose letters.  For this one I simply wrote letters on paper, laminated it, and had her fill in each letter with Froot Loops and Frosted Mini Wheats.  Bonus: She got to eat them for her snack when she was done.
For her all of this is fun and exciting, and if she gets discouraged or frustrated at any point we put it away until another time, because I want her to continue to see reading as a joyful experience and not a chore.
I can't take any credit for this early interest in reading.  Maybe it was her co-op teacher, maybe it was seeing her older siblings reading, maybe it was hearing so many hundreds of books read aloud.  Whatever it was, I'm not complaining!
The one common element in each one of my kids' reading journeys was hearing lots of great books read aloud.  It's also the reason they love books!   So I want to share with you a list of read-alouds that I highly recommend for elementary-aged kids.  These are all wonderful to read with the family or listen to together in audiobook form.  Some kids will want to read these themselves and that's great too!
 The Chronicles of Narnia by C.S. Lewis

I know this is actually a series of books but every one of them is absolutely worth reading.  They're beautifully written and filled with adventure and imagination.  The characters are so easy to relate to, and every character struggles through something at one time or another.  In The Lion, the Witch, and the Wardrobe, Edmund, one of the four siblings, starts off mean-spirited and cynical and ends up betraying his family.  In Voyage of the Dawn Treader, cousin Eustace is petty and cowardly and appears to have no positive qualities at all. But these characters that struggle with selfishness, fear, pride, and other issues that are common to humanity experience undeserved redemption and they're forever changed.  My son deals with lots of anger and he often lashes out verbally and physically when he's frustrated.  He knows he shouldn't and is always repentant afterwards but he can't seem to stop himself when he's angry.  For him to see these characters, who don't seem to have any redeeming qualities whatsoever, completely transformed into people who can put others first and choose what's right gives him hope for his own life.  These books also have a way of infusing us with a sense of purpose and greatness beyond the smallness of our day to day lives.  There are a thousand reasons to read the Narnia books, but that would probably be an entire post 🙂 These are definitely more suitable for elementary age and up.

Wonder by R. J. Palacio

This book is only a few years old but someday it will probably be considered a classic because it's that good.  It's about 10-year-old  August Pullman, who had multiple surgeries for a medical defect and is left with a severe facial deformity.  The story follows his journey of entering public school, being rejected and ridiculed by some, and finding acceptance and friendship with others who see past his appearance and appreciate him for who he is.  This one sparked some great conversations with all my kids about giving everyone a chance to be known for who they are and not judging people by their appearances.  Several sections of the book are written from the perspective of different characters, and we even felt bad for Julian (the bully) because we got to see into his life.  All of my kids developed a new level of empathy and compassion for people who are obviously suffering, but they also realized that everyone's story involves some kind of sadness or diffuculty.  I strongly recommend this book for the whole family.  The audio version is great because the voices are done by different people and it's even easier to connect with each character.

Heidi by Johanna Spyri

This one is definitely a classic.  Set in the Swiss Alps, this book transports you to a place where life is beautifully simple, yet rich.  Kids growing up in today's world don't always think about the simple pleasures in life, but Heidi makes all of us, children and adults alike, long to run with goats in a field of wildflowers and watch a glorious mountaintop sunset and have toasted cheese and milk for supper.  This book somehow had a calming effect on my son.  Every time I started reading it he settled down and listened.  We all laughed at Peter the goatherd and his jealous antics.  Heidi's determination, optimism, and genuine concern for others are an example for us all, particularly kids who struggle in those areas.  The contrasts between her life on the mountain and our modern lives make us want to slow down and enjoy the little things in life rather than always wanting to add more to the busyness.

Ramona the Pest (and all the other Ramona books) by Beverly Cleary

There's a reason most of us read these books as kids.  Beverly Cleary weaves so much humor into these stories about an ordinary girl and her everyday life.   She writes what kids often think, making Ramona such a relatable character that kids can't help but empathize with her many mishaps and fiascoes.  The way she thinks people see her is exactly the way a lot of kids think of themselves–as bothersome, or not smart enough, or not as pretty as someone else–and realizing they're not alone in feeling this way can be a huge relief.  My son specifically identifies with Ramona because he's often the one getting in trouble or causing a problem without intending to.  He sometimes thinks of himself as the "bad" one just like Ramona, but she's the heroine of the whole collection in spite of (or maybe because of) her tendency to make a mess of things.  Sometimes just knowing there are other people (or characters) out there who share our struggles makes us feel understood, and that's a tremendous relief for kids who are a little different.  I love Ramona for making so many kids feel this way 🙂

My Side of the Mountain by Jean Craighead George

We just finished this book.  Every time I started to put it down my kids begged me to keep reading just a little longer.  Teenager Sam Gribley runs away from his over-crowded New York City apartment to make a life for himself in the Catskill mountains.  I was a little skeptical of this one because I didn't want to sensationalize the idea of running away. But Sam isn't running away to escape his family–he simply believes he can make a great life for himself on his family's old property in the wilderness. He reads many books and prepares himself extensively before he goes on this mission. His experiences are fascinating and fun for kids and adults alike, and he makes all of us want to get out and enjoy nature.
Because my kids have grown so much through exposure to great characters in well-written books, I'm incredibly passionate about literacy.  The Dollar General Literacy Foundation is celebrating over 20 years of helping individuals learn to read, prepare for their high school equivalency, or learn English.  Just think of all those lives that have been forever changed because they were given an opportunity to better themselves.   Kellogg's is committed to providing 3 billion Better Days through 2025 through initiatives that feed people and their potential.  So have a bowl of Frosted Flakes or Froot Loops in honor of all the good these two companies are doing!
And don't forget to go tell your own literacy story here and enter the #DGMyStory Sweepstakes with the hashtag #DGMy StoryEntry for a chance to win a $50 Dollar General gift card!